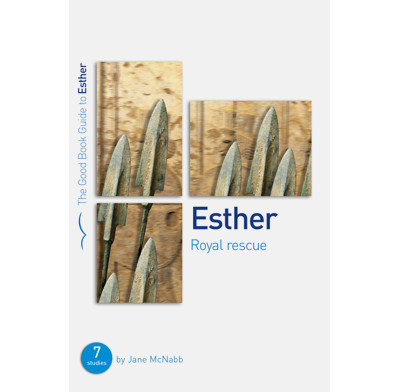 Esther: Royal Rescue
ebook
7 studies for individuals or groups
Learn from God's magnificent rescue of Esther and her people that His plans always triumph.
Part of the Good Book Guides series.
There are times in our lives when we question whether God truly loves us, whether He is really in control of the world, whether He knows what He is doing, whether He even notices what is happening to us.
These are exactly the kind of questions that God's people in Esther's day must have been asking. Not only were they exiled from their home, the land that had been promised to them by God, but they were facing ethnic cleansing on an unprecedented scale.
The story of Esther reveals that whatever the appearances, God is in control. Although the enemies of God and His people are many and powerful, their plans are doomed. God's plans are the ones that will triumph. He delights in answering His people's prayers often in most unexpected ways.
As He delivered the Jews of Esther's day from seemingly unstoppable destruction, so He has and will deliver all who turn to Him in Christ. He is to be trusted in all situations at all times.
Specification
| | |
| --- | --- |
| Contributors | Jane McNabb |
| Format | Digital (delivered electronically) - PDF |
| Case quantity | 50 |
| Language | English |
| No. of studies | 7 |
| Publisher | The Good Book Company |
Other information
The Good Book Guides have been developed to ensure that each session not only seeks to uncover the meaning of the passage and see how it fits into the big picture of the Bible, but also leads people to apply what they have learned to their lives. Flexible and practical, the Good Book Guides are ideal for small groups, or individual study.
"The format is very user-friendly and the content is rich and accessible."
- Justin Taylor, Gospel Coalition blogger and Vice-President of Editorial, Crossway
"God-centered, application-oriented, and driven by the text throughout, this resource is a gift to God's church."
- Matt Smethurst, Gospel Coalition reviewer and Master of Divinity student at The Southern Baptist Theological Seminary
Here at Covenant Life Church, we have greatly benefitted from the small group resources from The Good Book Company. Many small groups in our family life ministry have used "Colossians: Confident Christianity" in their study of scripture. Additionally, our youth ministry has used "Romans 1-5: God and You" in their small groups. Both resources were very easy to use, helped the reader engage directly with the scriptures, and had a wonderful pastoral emphasis demonstrated in all the questions.
- Dave Brewer, Youth Pastor at Covenant Life Church, Maryland
"Esther"
We have been using this study of Esther in our housegroup and found it excellent. There is more than enough material to cover each week. We have been so impressed that we have ordered other study books for future use.