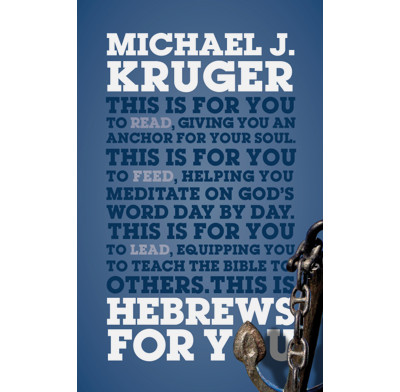 Hebrews For You
ebook
Giving You an Anchor for the Soul
Expository Bible-study guide to Hebrews that will excite Christians in their faith and equip teachers and preachers in their work.
Part of the God's Word For You series.
We are all tempted to drift away from Jesus, but in the book of Hebrews God gives us an anchor: a detailed understanding of how and why Jesus is better than anything else.
Seminary professor Michael J. Kruger unpacks this rich book verse by verse. He explains the Old Testament background, gives plenty of application for our lives today, and shows us how Jesus is the fulfilment of all God's work on earth. He encourages us to live by faith in Jesus—the only anchor for our souls.
This accessible, absorbing expository guide opens up this book for new and mature Christians alike. It is less academic than a commentary, making it a great resource for personal devotion, as well as useful for leading small group studies or sermon preparation.
Accompanying Bible study guide available to help you study Hebrews in small groups.
Contents
1. The Son in All His Glory (1:1-14)
2. A Great Salvation (2:1-18)
3. Look and Listen (3:1 – 4:11)
4. The Living Word and the Perfect Priest (4:12 – 5:10)
5. A Sober Warning (5:11 – 6:12)
6. An Anchor for Our Souls (6:13 – 7:28)
7. A Better Covenant (8:1 – 9:14)
8. Nothing but the Blood of Jesus (9:15 – 10:18)
9. Don't Quit (10:19-39)
10. Confident Faith, Radical Obedience (11:1-22)
11. The Marks of True Faith (11:23 – 12:3)
12. Run to Zion (12:4-29)
13. Pleasing to God (13:1-25)
Specification
| | |
| --- | --- |
| Contributors | Michael J. Kruger |
| ISBN | 9781784986063 |
| Format | eBook |
| First published | March 2021 |
| Language | English |
| Publisher | The Good Book Company |
Something Better Is Here
Amber Thiessen, March 10th 2021
"Hebrews for You" is an excellent resource. It reminds us that the Bible is one whole book, inspired by God, and if we apply ourselves to learn and understand the context, we are better equipped in our understanding: Because as Hebrews unfolds, drawing in these Old Testament truths, we see with fresh eyes the unity of scripture and the beauty of God's story.... continue reading
Great resource & very encouraging!
Craig Green, February 20th 2021
Kruger takes you on a journey through the book of Hebrews and as each chapter unfolds you cannot help but have a greater appreciation for the superiority of the Person and work of Jesus. Something that makes this book one to recommend is that it serves a number of purposes, whether you read this from cover to cover, as a reference book or as a study guide you will find it helpful and fun to read (I would definitely use this for a small group bible study).... continue reading
"can help give readers a deeper understanding of this complex, theology-heavy book of the Bible."
Bethany Davidson, April 8th 2021
Kruger provides clear explanations of complex historical and spiritual concepts, and helps readers understand Hebrews in a deeper way. He includes practical illustrations and application ideas throughout, and balances a theological focus with an understanding of how Hebrews should change our lives.... continue reading
"Great for unpacking His word"
Fast
Leant a lot as we unpack and 'delve' and read.
Highly recommended 👌
"Brilliant!"
(Review written for 'Hebrews For You')
Bought this for a friend who does 121s- said it has been such a help in some of the more tricky passages of Hebrews. Love the questions at the end of each chapter. I recommend this series as a whole to anyone and everyone I can!
"Detailed, yet with a deft touch; warm and engaging"
(Review written for 'Hebrews For You')
The book dealt with the complexities of Hebrews in sufficient depth, yet with a light touch and with warmth, pointing always for us to see Jesus in his unsurpassable greatness and sufficiency for our need
"So grateful to have found this guide!"
(Review written for 'Hebrews For You')
I'm so very glad I found this book, or rather that it found me. I've been trying to get properly to grips with the book of Hebrews and have found myself asking many questions I couldn't answer. This is such a helpful guide which makes me feel in safe hands. The chapters are a manageable length and I appreciate the outline in the Introduction. I also feel that the tone of the commentary matches the tone of the book of Hebrews, so Kruger is helping me to pay close attention to the message of Scripture. What a blessing!