Jonah: The Depths of Grace
6 studies for individuals or groups
Be amazed at the God of gracious love for his rebellious prophet and for his world.
Part of the Good Book Guides series.
The story of Jonah and the whale is one of the most famous in the Bible: but its message is perhaps one of the most ignored.
It's a story about storms and sailors, rebellion, and rescue, preaching and protest. And it's a story about one reluctant evangelist's experience of speaking to people who knew nothing about God. So its message has great relevance today for God's people, living in an increasingly non-Christian culture.
Jonah's story will encourage believers who find themselves ill-equipped to share God's message with colleagues, friends and family: and it deeply challenges our priorities in life.
But most of all this is a story about God. The book of Jonah reveals to us the depths of God's grace, both to "outsiders" and to "insiders". It shows us God's compassion for the lost and His patience with His wayward people.
Use this guide to uncover the wonderful message of Jonah, and to come face to face with the greatest evangelist of all—the Lord our God Himself.
Contents
Introduction
Why study Jonah?
Timeline

1. Running away - Jonah 1 v 1-3
2. Judgment and mercy - Jonah 1 v 4-16
3. Jonah's fishy faith - Jonah 1 v 17 – 2 v 10
4. Repent, relent, rage - Jonah 3 v 1 – 4 v 4
5. Lesson learned? - Jonah 4 v 5-11
6. Jonah and Jesus - Matthew 12 v 38-42

Leader's Guide
Free extras
Specification
| | |
| --- | --- |
| Contributors | Stephen Witmer |
| ISBN | 9781907377433 |
| Format | Saddle stitch |
| Dimensions | 5.5" x 8.3" x 0.2" |
| Print size | 9.0pt |
| Case quantity | 100 |
| Language | English |
| Pages | 72 |
| No. of studies | 6 |
| Publisher | The Good Book Company |
Other information
http://www.chriscastaldo.com/2011/09/18/out-of-the-depths-of-grace-a-guide-to-jonah/
- Chris Castaldo blog
http://thegospelcoalition.org/blogs/tgc/2011/09/27/the-gospel-according-to-jonah/?comments#comments
- Stephen Witmer, Pastor, Pepperell Christian Fellowship, MA
The Good Book Guides have been developed to ensure that each session not only seeks to uncover the meaning of the passage and see how it fits into the big picture of the Bible, but also leads people to apply what they have learned to their lives. Flexible and practical, the Good Book Guides are ideal for small groups, or individual study.
"The format is very user-friendly and the content is rich and accessible."
- Justin Taylor, Gospel Coalition blogger and Vice-President of Editorial, Crossway
"God-centered, application-oriented, and driven by the text throughout, this resource is a gift to God's church."
- Matt Smethurst, Gospel Coalition reviewer and Master of Divinity student at The Southern Baptist Theological Seminary
Here at Covenant Life Church, we have greatly benefitted from the small group resources from The Good Book Company. Many small groups in our family life ministry have used "Colossians: Confident Christianity" in their study of scripture. Additionally, our youth ministry has used "Romans 1-5: God and You" in their small groups. Both resources were very easy to use, helped the reader engage directly with the scriptures, and had a wonderful pastoral emphasis demonstrated in all the questions.
- Dave Brewer, Youth Pastor at Covenant Life Church, Maryland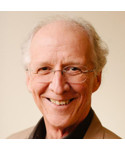 John Piper
Pastor for Preaching & Vision, Bethlehem Baptist Church, Minneapolis, MN
Stephen Witmer opens up to our minds and hearts the amazing grace of God, and shows us how ultimately it's Jesus who makes that grace possible for us.  Biblically rich and personally accessible, the last study brings it all together and shows us how the story of Jonah is also the big picture of the Bible—the depths of God's grace.
Carl Collison
Gospel Coalition Website
Thanks, Stephen, for bringing Jonah to life. And glad to see there's now a Good Book Guide focussing on it. We've used GBGs from The Good Book Company before with our small groups, and have been blessed by their faithfulness to Scripture, Christ-centeredness, and helpful application. Is this the first one you've written?
"Repentance and the Sovereignty of God"
We are nearly finished this study, and have found it to be really helpful. Would highly recommend.
"Highly recommended"
Our group of ladies, mature in age and faith, has thoroughly enjoyed this study. It has revealed so much more (hidden depths!) in what we thought was a familiar story. It has encouraged, challenged and inspired us. Praise the Lord and thank you & Stephen Witmer.
"People in cities need Christ"
This study, with a mixed group of all ages, was excellent! So much more than a big fish! It really made us think about our attitudes to others. We were particularly drawn, living in London, to the needs in big cities. What are we doing as individuals about spreading the gospel?
"Excellent"
We used this in our women's bible study group and we all loved it. It was great to get under the skin of an all too familiar story and discover the surprising message within. It was deeply challenging to our attitudes and the pace of the studies was just right. Highly recommended.
"Very helpful for group (or personal) study"
Used thsi to lead a Home group and found it very helpful and challenging in mnay aspects
"Challenging and relevant study"
This was used in our women's Bible study group. It was good to study in depth a story with which they were familiar. It raised a lot of challenges to our approach to mission today. The group is now going on to study another OT book using a Good Book Guide - Ezekiel