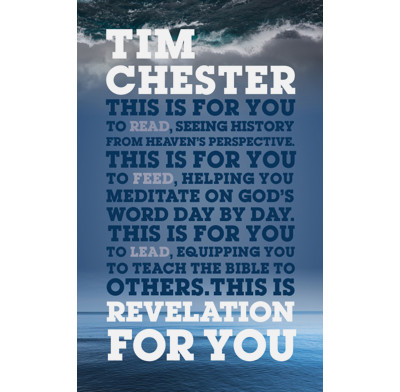 Revelation For You
ebook
Seeing history from heaven's perspective
Expository Bible-study guide to Revelation that can be read as a book; used as a devotional; and utilized in teaching and preaching
Part of the God's Word For You series.
Many Christians are confused by the book of Revelation. It moves from strange and disturbing images to warm and practical encouragement; from the fires of Hell to wonderful pictures of a glorious eternity.
And yet the message of the final book of the Bible is both clear and simple. Despite everything that is going wrong with our world, God remains in control. And when we see history, our present, and our future from heaven's perspective, it will encourage us to trust God and remain faithful to the end.
This accessible, absorbing expository guide opens up this book for new and mature Christians alike. It is more applied than a typical commentary, making it a great resource for personal devotion, as well as useful for leading small group studies or sermon preparation.
There is an accompanying Good Book Guide available.
Contents
Introduction: Reading Revelation Today
1. The faithful witness (Chapter 1)
2. The call to conquer (2 – 3)
3. What do you see? (4 – 5)
4. The chaos of history (6 – 9)
5. Victory through suffering (10 – 11)
6. Who do you worship? (12 – 14)
7. The justice of the Lamb (15 – 16)
8. The economics of the Lamb (17:1 – 19:10)
9. The reign of the Lamb (19:11 – 21:8)
10. Where do you belong? (21:9 – 22:21)
Specification
| | |
| --- | --- |
| Contributors | Tim Chester |
| ISBN | 9781909919990 |
| Format | eBook |
| First published | February 2019 |
| Language | English |
| Publisher | The Good Book Company |
"Highly recommended"
(Review written for 'Revelation For You')
Tim Chester has written an excellent basic introduction to Revelation. He takes the view that Revelation is not just about the future, but had an application to John's readers as well as talking about future events. He follows those who think that Revelation is not a sequential description of events, but views the same events from different angles, as is sometimes done in films: each of the seven seals, trumpets and bowls describe the same events, ending with the final judgement. Even if one takes a different position, there is still much that one can learn from the commentary. Tim explains well the Old Testament background and events in the first century which help explain the imagery. He makes many pastoral applications and exhortations which help us to apply Revelation to our personal lives and to God's people generally. In particular, he emphasises the importance of our witness in a hostile world. Above all, the book exalts Christ, which was one of John's key aims in recording his visions. Highly recommended.
"A revelational book into John's Revelation."
(Review written for 'Revelation For You')
I had followed Tim Chester's "Revelation" notes in the "Explore" daily bible readings earlier in the year and found them so clear as he peeled off the layers of wisdom in John's Revelation so I bought the book recently (and a second one for a friend) to read this inspirational exposition straight through again. It is such an exciting, easy read in a conversational style but the scholarship behind it should not be underestimated!