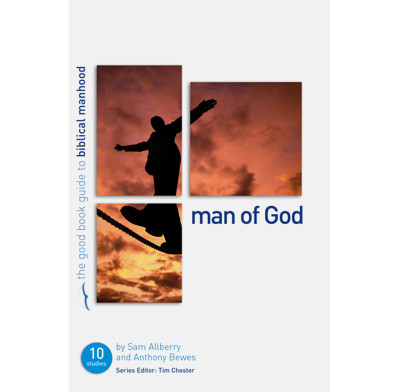 Man of God
ebook
Ten studies for individuals or groups
What makes a real man? 10 studies to help you live purposefully and confidently for Christ as true Men of God.
Part of the Good Book Guides series.
What makes a real man? There are no shortage of role models on offer: the dedicated Dad or the party-hard guy: the cut-throat businessman or the sensitive husband; the competitive athlete or the contemplative shy type; the reckless adventurer or the around the house handy man.
This set of Bible studies aims to unpack the answers the Bible gives to the question of identity that men face today. We will learn our God-given role in creation, how that has been ruined by the fall. And we will discover how we can start to be restored through the man above all men – Jesus Christ. Some things that emerge will be controversial in our culture, even in some of our churches. This course doesn't set out to be politically correct but faithful to God's counter-cultural word.
Suitable for groups or individuals, this guide covers all the major Bible teaching specific to men. Set within the big picture of God's redemption for sinners through Jesus Christ, the heart-felt aim of the authors is that 21st century men will be set free from the slavery of human expectations, and enabled to live purposefully and confidently for Christ as true Men of God.
Specification
| | |
| --- | --- |
| Contributors | Anthony Bewes, Sam Allberry |
| Format | Digital (delivered electronically) - PDF |
| Case quantity | 50 |
| Language | English |
| No. of studies | 10 |
| Publisher | The Good Book Company |
Other information
The Good Book Guides have been developed to ensure that each session not only seeks to uncover the meaning of the passage and see how it fits into the big picture of the Bible, but also leads people to apply what they have learned to their lives. Flexible and practical, the Good Book Guides are ideal for small groups, or individual study.
"The format is very user-friendly and the content is rich and accessible."
- Justin Taylor, Gospel Coalition blogger and Vice-President of Editorial, Crossway
"God-centered, application-oriented, and driven by the text throughout, this resource is a gift to God's church."
- Matt Smethurst, Gospel Coalition reviewer and Master of Divinity student at The Southern Baptist Theological Seminary
Here at Covenant Life Church, we have greatly benefitted from the small group resources from The Good Book Company. Many small groups in our family life ministry have used "Colossians: Confident Christianity" in their study of scripture. Additionally, our youth ministry has used "Romans 1-5: God and You" in their small groups. Both resources were very easy to use, helped the reader engage directly with the scriptures, and had a wonderful pastoral emphasis demonstrated in all the questions.
- Dave Brewer, Youth Pastor at Covenant Life Church, Maryland