Epic Explorers Logbook
Christianity Explored Children's Edition
Activity booklet in full-color for 8-11s to use during Epic Explorers, the children's edition of Christianity Explored
Part of the Epic Explorers series.
The Epic Logbook is specially designed for 8-11s to use during Epic Explorers, the children's edition of Christianity Explored. This full-color activity booklet contains puzzles, quizzes and discussion questions for each of the five Epic Explorers sessions
Epic Explorers is part of the Christianity Explored range, specially designed for 4-11s. The five flexible sessions can be used for a holiday club, after-school club, or as an opportunity for children to invite friends to their church group.
Epic Explorers takes children through Mark's Gospel as they explore the life of Jesus together. On the way they will discover who Jesus is, why he came, and what it means to follow him.
Don't forget to register your course for access to extra resources from Christianity Explored Ministries.
Free extras
Specification
| | |
| --- | --- |
| Age range: | 8 - 11 |
| Contributors | Tamar Pollard, Nate Morgan Locke |
| ISBN | 9781909919716 |
| Format | Saddle stitch |
| First published | November 2014 |
| Dimensions | 6" x 9" x 0.1" |
| Case quantity | 110 |
| Language | English |
| Pages | 32 |
| Publisher | The Good Book Company/CE |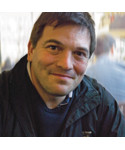 Rico Tice
I'm so thrilled with this latest addition to the Christianity Explored family. Like every edition of Christianity Explored, Epic Explorers is built on the foundation of discovering the identity, mission and call of Jesus in Mark's Gospel. And it does so in a way that is uniquely fun, engaging and, most of all, faithful for children from the ages of 4 right up to 11.
"Really fab resource"
We have just finished running Epic Explorers as an after school club for 8-11s at our church and it's been a really valuable experience for us all! The best thing about this material is how massively flexible it is. It is rammed with ideas for games, crafts, quizzes, talks etc. and it comes with lots of options for how to run it as either a holiday club, sunday school, after school club etc. Which just means you can take what works in your context and leave what doesn't. The Epic logbooks are also really worth using with your groups - the kids just loved having something so glossy and colourful to scribble in. There were a few frustrations with some resources the book mentioned not being available on the CE website but apart from that we loved it. Just lovely, flexible and adaptable. Thank you so much for your hard work producing it.