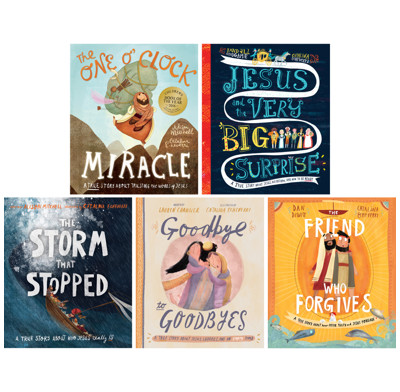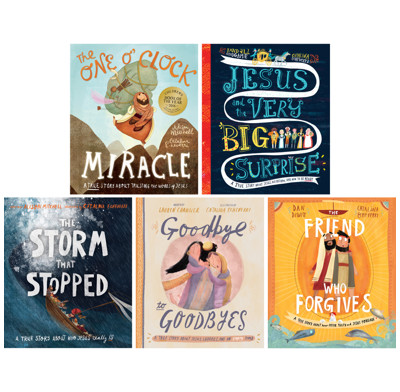 Stories from the Gospels 5 Book Set
These five books will teach children 3-6 about how amazing Jesus is.
Part of the Tales that Tell the Truth series.
Each of these five beautifully illustrated stories is set in one of the Gospel accounts and will excite young readers with the wisdom of Jesus as he teaches his followers, the grace of Jesus as he forgives his friends, and the power of Jesus as he calms a storm and raises the dead to life!
This five-book set comes as five book stand-alone storybooks, without extra packaging.
Titles included in this set:
- The Friend Who Forgives Storybook
- Goodbye to Goodbyes Storybook
- Jesus and the Very Big Surprise Storybook
- The One O'Clock Miracle Storybook
- The Storm That Stopped Storybook
Specification
| | |
| --- | --- |
| Age range: | 3 - 6 |
| Format | Multiple component pack |
| Dimensions | 8.7" x 10.2" x 2" |
| Case quantity | 50 |
| Language | English |
| Pages | 32 |
| Publisher | The Good Book Company |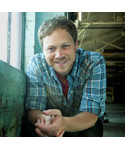 Andrew Peterson
acclaimed singer/songwriter and author of the award-winning Wingfeather Saga
Jesus and the Very Big Surprise Storybook: It is a rare and wonderful thing to find someone so immensely talented who submits that talent to Jesus by sharing the gospel with children. For years, Randall has been looking young people in the eye and telling them—through song and story and good humor—the astonishing truth of the gospel. It's no surprise that Randall's book about surprises does that very thing too.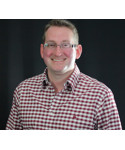 Sam Allberry
Pastor at Immanuel Church, Nashville; author of Is God Anti-Gay? and What Does God Have to Say About Our Bodies?
Endorsement written for Board Book Set
The Friend Who Forgives Storybook: We don't need to look like Peter or sound like Peter to find ourselves acting like Peter — saying foolish things to and about Jesus Christ. So it's great to be reminded how Jesus is always a far better friend to us than we are to him.
Dai Hankey
Acts 29 church planter in Cardiff and author of Hopeward
The One O'Clock Miracle Storybook: Wonderfully narrated and beautifully illustrated, The One O'clock Miracle is a compelling retelling of a famous Bible story of faith, grace and big, powerful words.
"So Happy to Have Found You"
(Review written for 'The Friend Who Forgives Storybook')
While visiting our granddaughter, she brought me a book she had received as a Christmas gift. It was such a beautifully written and illustrated story. When we got to the end, I said "What a wonderful book, Sophie!" She turned the book over and began pointing to the pictures of the other books available in the series. She said, "I don't have this one or this one or this one." I took note of the titles and authors and that was when I discovered The Good Book company. I received my order so quickly. It was well packaged and contained a thank you note. Sophie received the books for her February birthday. She was so excited, especially about the accompanying activity books. I am so looking forward to our next visit, so we can snuggle up and read! Sophie just turned four and is so interested in Bible stories. I am very grateful to have found such a fine company for amazing products and service. I plan to be a repeat customer. Thank you so much.