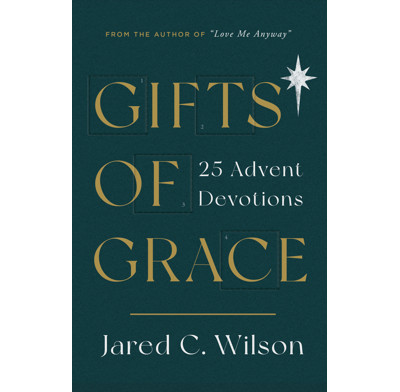 Gifts of Grace (audiobook)
25 Advent Devotions
Delight in God's wonderful gifts of grace with this Advent devotional for Christmas.
Just as with opening the doors of an Advent calendar day by day, this Advent devotional will build your anticipation for Christmas so that you can fully absorb and enjoy its central gift—Jesus Christ.
Reflecting on a few short verses each day, this devotional examines the wonderful gifts of grace that we receive through the coming of Christ and belief in his gospel. Author Jared C. Wilson says in his introduction:
"My prayer for you is that examining the diamond of the gospel facet by facet for the next 24 days will find you on Day 25 more awestruck and joy-filled about the glory of Christ our Lord. It is only by beholding Christ's glory, in fact, that we can be made like him (2 Corinthians 3:18)."
Jared C. Wilson is an assistant professor of pastoral ministry and author in residence at Midwestern Seminary, and the director of the Pastoral Training Center at Liberty Baptist Church, Kansas City. He is also an award-winning author, podcast host, blogger, and conference speaker.
Contents
1. Hope
2. Faith
3. Justification
4. Expiation
5. Propitiation
6. Peace
7. Reconciliation
8. The Church
9. Power
10. Love
11. Imputation
12. Wisdom
13. Contentment
14. Victory
15. Rest
16. Sanctification
17. Glorification
18. Justice/Vindication
19. Freedom
20. Priesthood
21. Commissioning
22. Assurance
23. Eternal Life
24. Joy
25. Jesus
Specification
| | |
| --- | --- |
| Contributors | Chuck Badger |
| Format | Audiobook |
| Case quantity | 50 |
| Language | English |
| Publisher | The Good Book Company |