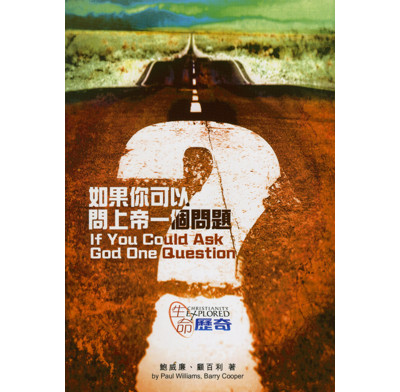 If You Could Ask God One Question? (Traditional Chinese)
Traditional Chinese
Chinese (Traditional) edition of the Christianity Explored paperback. If you could ask God one question, what would it be?
Part of the Christianity Explored series.
Chinese (Traditional) Edition
If you could ask God one question, and you knew it would be answered, what would it be?
Paul Williams and Barry Cooper have spent several years asking people that question. And inside this book, they reveal the results: the 12 most frequently asked questions about God.
But this isn't just a book about questions. There are answers too. Answers from the lips of the most powerful, insightful and extraordinary figure in all of human history.
Contents
Where to begin?

1. If you're really there, God, why on earth don't you prove it?
2. Isn't the Bible just a bunch of made up stories?
3. All good people go to heaven, right?
4. If you're a God of love, why send anyone to Hell?
5. If Jesus really was your Son, how come He got killed?
6. If I can be forgiven everything, doesn't that mean I can do whatever I like?
7. How can anyone be sure there's life after death?
8. What about followers of other religions?
9. Isn't faith just a psychological crutch?
10. Why do you allow suffering?
11. Why do you hate sex?
12. Why don't you just do a miracle?
13. So, God, if You could ask me one question, what would it be?

What now?
Acknowledgments
Specification
| | |
| --- | --- |
| Contributors | Barry Cooper, Paul Williams |
| ISBN | 9789622449725 |
| Format | Paperback |
| Dimensions | 5.7" x 8.2" x 0.3" |
| Language | Traditional Chinese |
| Pages | 126 |
| Publisher | China Alliance Press |
Also available in
Other information
Find out what others are saying about 'If You Could Ask God One Question here
"Fantastic book. Love it!"
(Review written for 'If You Could Ask God One Question')
I read this book many years ago and it gave me a lot of answers to the questions I want ask by myself or by my friends. It gives me confidence to face the doubt.
"Suggestion for reprint"
(Review written for 'If You Could Ask God One Question')
Brilliant book. Thank you for putting it together. Please consider a title change in next reprint: substitute Christ for God. That's because many non-westerners do not immediately associate God with Christ. They have other entities they call god.
"Nice book to accompany the CE course"
(Review written for 'If you could ask God one question (ebook)')
The book is well written and also a good companion book for the CE course. I have no question to recommend and encourage anyone who wants to care about his/her ethernal life. It worths to spend time to read it and think of it in deep. Then you may want to explore more from the Bible. There is also different translations of the book including Chinese Language.
"Great for opening things up"
(Review written for 'One life. What's it all about?')
What do you get someone showing interest in finding out more about Jesus Christ? This is a good starter! Reading the Bible is an alien experience for people today, so this book puts the Christianity Explored approach to Mark's Gospel into print form. Accessible and with links to CE website a useful pass-it-on.
"Great introduction for someone with a new faith"
(Review written for 'If You Could Ask God One Question')
I am a new member of Jesus's fan club, so am devouring everything I can to deepen my understanding and grow closer to him. This book (and the other I bought - Christianity Explored - having just done the course) are very easy to read, very accesssible and not at all intimidating. Am very impressed with the service provided by The Good Book guys, but have one issue. I know it says what it does on the tin, but would be great to be able to buy christian music too - like New Life Worship CD's or other christian artists.
"A must for the inquisitive sceptic."
(Review written for 'One life. What's it all about?')
This book explores and examines St Mark's Gospel and Jesus' life and teachings contained therein. Using a lot of relevant and contemporary anecdotes, he [Rico] explains that the human heart is fundamentally flawed and ultimately wicked. The only way to gain God's kingdom is by loving God wholeheartedly and forsaking all else to enter on our knees, full of repentance, with the unquestioning devotion and reliance on God's grace as a small child is dependent on its parents for everything. Jesus was sent to suffer and die for all our sins, and if we truly trust this to be the case and follow Jesus' life and example we can rejoice and join Christ's community, and mix with like minded Christians at church to partake of their love and strength and encouragement and guidance. A very compelling read. logically worked through and very in depth of all the Scriptures. A truly well researched document bringing in facts from a vast database of biblical knowledge. A must for the inquisitive sceptic.
"Excellent for anyone seeking God"
(Review written for 'One life. What's it all about?')
This book faithfully presents the Gospel in a clear, concise, contemporary, interesting, and lucid way. I have given a copy to several people who are willing to search for the truth.
"useful book "
(Review written for 'If You Could Ask God One Question')
Useful to give to enquirers and interesting for anyone. Well written.
"Excellent"
I bought this book to give to a group of Mums who were doing the Christianity Explored Course. I found it a good summary of all the material presented in the DVD and the course. It describes the same examples as the DVD and as such can be read to go over what has been covered.
"Excellent reading"
An excellent purchase. I attended this course through my local Church and this book enhances what I have learned.