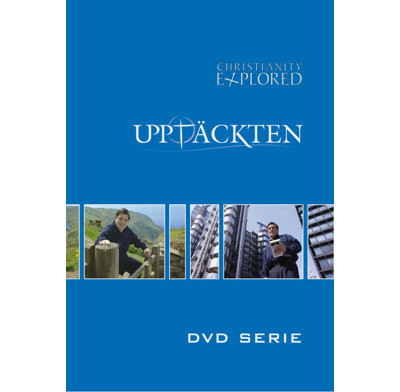 Christianity Explored DVD (Swedish)
Swedish Edition of the Christianity Explored DVD
Part of the Christianity Explored series.
Swedish Language Subtitled Edition
This two-disc DVD set includes nearly four hours of material and is filmed on location around the United Kingdom. Each main episode lasts for around 20 minutes and features on-screen Bible text and questions for group discussion. The Exploring Christian Life episodes last for around 10 minutes.
As well as being easy to use, the DVD set also features improved picture quality and a re-mastered soundtrack as well as subtitles, a trailer, a preview and a 40-page guide to using the series.
The DVD is designed to work alongside the books How to run the Course; Study Guide; and Study Guide - Leader's Edition.
With a total running time of nearly four hours and featuring on-screen Bible text, the Christianity Explored DVD Series enables you to run a course if you don't want to deliver talks "live".
In 2004, the Series received an Award of Distinction at the Communicator Awards, an international competition honoring excellence in communications.
Contents
Program listing:
1: Introduction
2: Jesus - Who was he?
3: Jesus - Why did he come?
4: Jesus - His Death
5: What is Grace?
6: Jesus - His Resurrection

Exploring Christian Life:
Programs 1-4
- The Church, The Holy Spirit, Prayer, The Bible

7: What is a Christian?
8: Continuing as a Christian
9: Choices - King Herod
10: Choices - James, John & Bartimaeus

Total running time: 232 minutes
Specification
| | |
| --- | --- |
| Contributors | Christianity Explored |
| Format | DVD |
| Dimensions | 5.3" x 7.5" x 0.4" |
| Language | Swedish |
| Pages | 2 |
| Publisher | Reformedia |
Also available in