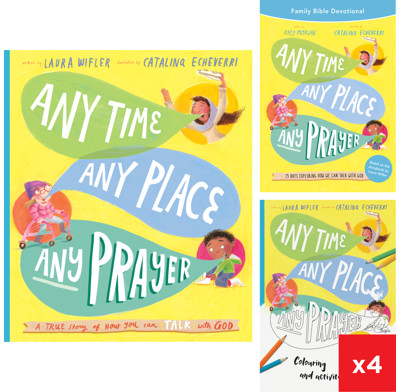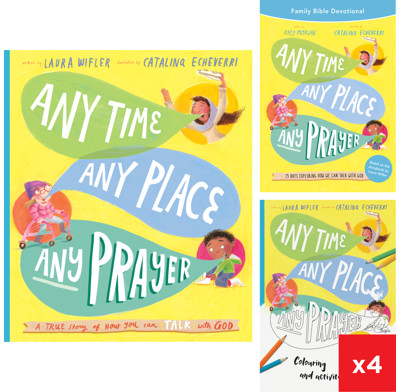 Any Time, Any Place, Any Prayer Storybook, Family Devotional and Four Coloring Books Bundle
Get a great deal when you buy the Any Time, Any Place, Any Prayer Storybook with the Family Devotional and four coloring books
Part of the Tales that Tell the Truth series.
Use this bundle of resources to teach young kids the exciting truth that they can talk to their heavenly Father about anything, anytime, anywhere.
The storybook, written by Risen Motherhood co-founder Laura Wifler, takes children on a journey from Eden and God's presence, through the fall, redemption, and the Spirit's presence with us now, to our presence with God in the future, to show children that God has always made a way for his people to talk with him. Children will learn a biblical understanding of prayer, why it's amazing, and that they can enjoy talking with God about anything, anytime, anywhere.
The Family Devotional goes deeper into the Bible passages that form the basis of the Storybook. Each 10-minute devotion is easy to lead and fun to do and they will help your family to pray with confidence, at any time, in any place. They are ideal to use with kids aged 5-11.
Designed for 5+ year olds, the coloring and activity book features 32 pages of fun, creative activities based on the storybook. As kids color, they'll be reminded of the message of the book. This bundle contains four of these books. Ideal for use in homeschool.
Other products in the range include:
Specification
| | |
| --- | --- |
| Age range: | 3 - 6 |
| Contributors | Laura Wifler, Catalina Echeverri |
| Format | Multiple component pack |
| First published | August 2023 |
| Language | English |
| Publisher | The Good Book Company |