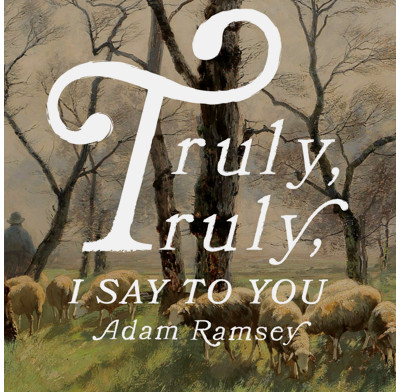 Truly, truly, I say to you (audiobook)
Meditations on the Words of Jesus from the Gospel of John
Spend time with Jesus every day with these 40 devotions. Ideal for Lent and Easter.
The most precious words this world has ever heard came from the voice of Jesus. "It is I, do not be afraid"; "I am the Light of the World"; "I go to Prepare a Place for You"; "It is finished." These are just some of the powerful, life-renewing words spoken by Jesus in the first century. As we read them in John's Gospel, the Holy Spirit makes these same words come alive in our hearts today.
With devotions and prayers from Adam Ramsey, along with insights from the 19th-century "Prince of Preachers," Charles Spurgeon, you will encounter Jesus through these pages and experience the transforming power and tender comfort of his voice.
These 40 devotions are ideal for Lent, with two extra special reflections added for Easter Sunday and Monday. They can also be used at any time through the year, to deepen your own walk with Jesus.
As Jesus' words of grace and truth shine a light into your heart, you'll learn more about yourself. But more importantly, you'll learn more about him, as you marvel at his character and find yourself captivated by his presence.
Contents
Introduction
1. What Are You Seeking?
2. Follow Me
3. My Hour Has Not Yet Come
4. Destroy This Temple and I Will Raise It Up
5. You Must Be Born Again
6. So Must the Son of Man Be Lifted Up
7. The Fields Are White for Harvest
8. The Scriptures Bear Witness about Me
9. It Is I; Do Not Be Afraid
10. Whoever Comes to Me, I Will Never Cast Out
... and 32 more
Specification
| | |
| --- | --- |
| Contributors | Adam Ramsey |
| ISBN | 9781802540956 |
| Format | Audiobook |
| Case quantity | 50 |
| Language | English |
| Publisher | The Good Book Company |