Goodbye to Goodbyes
A True Story About Jesus, Lazarus, and an Empty Tomb
A true story about how Jesus came to end goodbyes
Jesus knew how scary it is when someone gets really sick. He knew how sad it is when someone dies. Jesus cried when his friend, Lazarus, died. But he did something at his friend's tomb that changed everything. He showed that he came to give his friends life after death.
In this vivid, moving and exciting retelling of the story of Lazarus, Lauren Chandler helps children understand how Jesus makes all the difference to death. Children will see that because Jesus rose from death, he has power over it and all who believe in him will also rise, just as Lazarus did.
The author, Lauren Chandler, used the story of Lazarus to help her own children come to terms with her husband's (Matt Chandler) brain tumor. Whether children are coming to terms with the illness or death of a loved one, or simply fearful of when that day might come, this book reassures them with the amazing truth that Jesus came to to say goodbye to goodbyes—forever.
Specification
| | |
| --- | --- |
| Author | Lauren Chandler |
| ISBN | 9781784983772 |
| Format | Hardback |
| First published | 2019 |
| Dimensions | 8.7" x 10.2" x 0.4" |
| Language | English |
| Pages | 32 |
| Publisher | The Good Book Company |
Goodbye to Goodbyes gives our kids a big, colorful view of the God we serve and His defeat of sin and death forever!
Lauren took one of my favorite stories in the Bible and brought it to life for us. Children and adults will be moved by the love and compassion that Jesus shows towards the people he loves in this story. Thankfully, one day there will be no more goodbyes!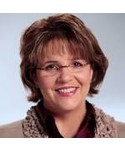 In this winsome little book, Lauren Chandler applies resurrection reality to the heart, in a way that will help both adults and kids face death with faith and hope.