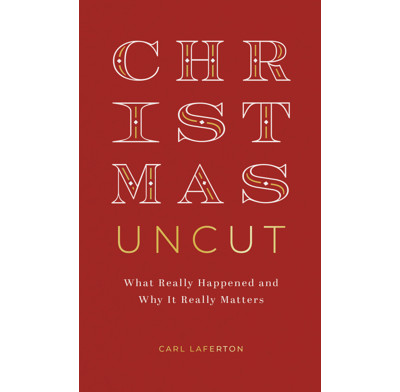 Christmas Uncut
ebook
What Really Happened and Why It Really Matters
The authentic Christmas story, told in a warm, winsome and witty way. Perfect for giving away.
The nativity story is often seen as cute and cuddly and for kids. But that's because some of what really happened at the first Christmas has been edited out! The full, unabridged, uncut story is full of twists and turns, controversy and mystery.
This best-selling book, now revised and updated, tells readers what really happened all those years ago, and why it really matters for our lives and futures today.
Warm and witty, short and easy to read, Christmas Uncut is perfect for giving out at Christmas services and events, or to nonbelieving family and friends.
Contents
Introduction
Scene 1. Shock and Scandal (Mary)
Scene 2. Meeting Royalty (The Angel)
Scene 3. Take a Look (The Shepherds)
Scene 4. Wise or Crazy? (The Magi)
Scene 5. A Darker Christmas (King Herod)
Scene 6. A Strange Prediction (The Old Man)
Scene 7. The Baby Grew Up (Jesus)
What Next?
Yes, but isn't a lot of this made up?
Yes, but surely Jesus didn't actually come back from the dead?
Specification
| | |
| --- | --- |
| Contributors | Carl Laferton |
| ISBN | 9781784989224 |
| Format | eBook |
| First published | October 2023 |
| Case quantity | 50 |
| Language | English |
| Publisher | The Good Book Company |
"Evangelism Opportunity"
(Review written for 'Christmas Uncut')
I great way to spur conversation about the birth of Jesus Christ. This book is a clear message that draws people back to read the account of Christ's birth in the Bible. We give this book away to our church members and encourage them to reach out to their co-workers, neighbors and friends.