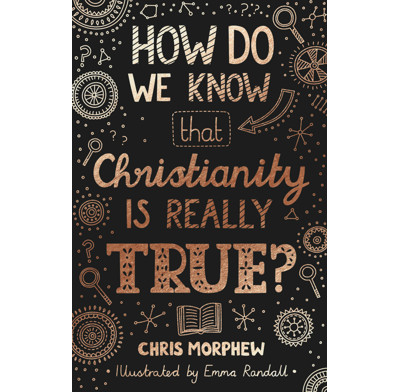 How Can We Know Christianity is Really True? (audiobook)
Apologetics for Christian kids and tweens on the evidence for Christianity.
Part of the Big Questions series.
Sooner or later, kids have big questions about God, life, faith, and the Bible, especially when their friends start asking them about what they believe. A common one is: How do we know Christianity is really true?
Big questions deserve good answers. This pithy, fun, and fast-paced book looks at what the Bible says to help 9-13s think through this big question for themselves. It explains why we can trust the Gospels as real historical documents and walks through the evidence for Jesus' resurrection. Lively stories and illustrations make this book easy for this age group to engage with.
Christian studies teacher and school chaplain Chris Morphew has been answering big questions from kids in his classroom for over a decade. He has written over 20 books for children and youth, including Best News Ever, a 100-day devotional for tweens.
Emma Randall has illustrated many books, including Diary of a Disciple.
How Do We Know Christianity Is Really True? is part of the Big Questions series: fun and fast-paced books walking kids aged 9-13 through what the Bible says about some of the big questions of life, and helping them to grow in confident and considered faith.
Contents
1. The Two Most Important Questions
2. How Much Do We Really Know About Jesus?
3. When Were Our Sources About Jesus Written?
4. How Do We Know Jesus' Followers Didn't Just Make It All Up?
5. Do Jesus' Biographies Match up With the Rest of History?
6. Investigating the Empty Tomb
7. … the Testimony of Jesus' Friends
8. … the Testimony of Jesus' Brothers and Enemies
9. … the Five Hundred Other Eyewitnesses
10. … the Explosive Growth of the Church
11. If It's True… What Should I Do?
Specification
| | |
| --- | --- |
| Age range: | 9 - 13 |
| Contributors | Chris Morphew |
| ISBN | 9781802540048 |
| Format | Audiobook |
| Case quantity | 50 |
| Language | English |
| Publisher | The Good Book Company |