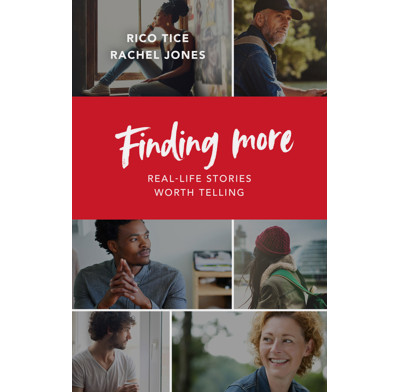 Finding More (audiobook)
Real Life Stories Worth Telling
Is there something more to life? Fascinating life stories of people who found the answer
Part of the Christianity Explored series.
Most of us wonder: is there something more to life?
Finding More tells the stories of eleven people who asked that question, and found the answer.
These fascinating life stories introduce you to people from all kinds of backgrounds who became Christians when they encountered the only One who gives us more: Jesus Christ. As their stories unfold, you'll be shown who Jesus is, why he came, and what it means to follow him.
This is an ideal book to give to guests on a Christianity Explored course, or to show friends what they might stand to gain by investigating Jesus for themselves. Whoever they are and wherever they come from, they will see that Jesus' message is for them too.
Is there something more to life? It's time to find out.
Contents
Introduction (by Rico Tice)
1. Katie | "I knew I still hadn't found it"
2. Larry | "I wanted the evidence"
3. Caroline | "The religious people I knew were hypocrites"
4. Jason | "I thought Christianity was a white man's religion"
5. Drew | "I started shouting abuse at the speaker"
6. Rick | "It just didn't make sense"
7. Deb | "I started reading the Bible as I got high"
8. Nicky | "I was scared of how life would change"
9. David | "I knew I had to do something to get my life together"
10. Rachel | "I thought Christians were stupid bigots"
11. Kateryna | "Some days just getting out of bed was a miracle"
Find your more (by Rico Tice)
Specification
| | |
| --- | --- |
| Contributors | Rachel Jones, Rico Tice, Rachel Redeemed |
| ISBN | 9781802540079 |
| Format | Audiobook |
| Case quantity | 50 |
| Language | English |
| Publisher | The Good Book Company |