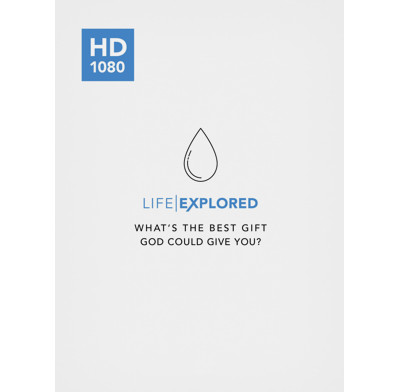 Life Explored Episodes (HD)
What's the best gift God could give you?
Individual HD episodes of the Life Explored course.
Part of the Life Explored series.
These videos are encoded at HD 1080p in the H264/MPEG4 format, ideal for an HD TV or projection from a laptop. Each episode is between 450-600Mb.
Life Explored is an exciting new way to share the gospel in today's highly visual culture. Developed by Christianity Explored Ministries, the seven interactive sessions are based on stunning videos shot all over the globe.
Life Explored will help people uncover what they're really living for, and shows how, in Christ, God meets our deepest desire for happiness. Each session explores an aspect of God's character. We see that the God of the Bible is good, trustworthy, generous, liberating, fulfilling, life-giving and joyful. And ultimately we see that the greatest pleasure in life is not enjoying the gifts he has given, but enjoying God himself.
This exciting, new outreach course can be run before or after Christianity Explored or Alpha and is perfect for anyone looking for answers to life's big questions.
Specification
| | |
| --- | --- |
| ISBN | 9781784986711 |
| Format | Digital Download |
| First published | August 2016 |
| Language | English |
| Publisher | The Good Book Company/CE/Dot & Cross |
"A bit disappointed"
(Review written for 'Life Explored DVD')
A questionnaire was produced for a group of around 25 people. Generally, they were undecided as to whom the course would benefit the most - as a Christian Basics Course or as a Discipleship Course. Film Clips. Far more people benefited from the 2nd film clip than the 1st. There were real and genuine problems for many in understanding the 1st film clip and to show just the 2nd clip would not work because it refers constantly to the 1st clip.
Bible Study Material. The vast majority of people found great value in the Bible studies, questions and discussions and were also challenged in their Christian commitment and lifestyle.