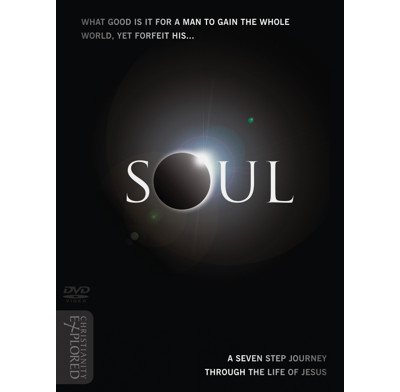 Soul DVD
Christianity Explored Youth DVD
A seven-step journey to faith in Jesus for teens to young adults. Has English and Spanish subtitles.
Part of the Soul series.
A seven-step journey to faith in Jesus.
Whether you're a youth leader looking for a way to engage your group or someone looking for material for a godchild, niece or nephew, the Soul DVD is an exciting resource to explain the gospel to young people.
Soul is from the Christianity Explored team. It can be used alongside Christianity Explored's evangelistic CY course, or on its own.
The professional DVD was filmed at Shepperton Studios by an award-winning director and at a variety of locations throughout the UK. Nate Morgan-Locke, CE's youth evangelist who also works at the All Souls' Clubhouse, carefully and powerfully explains the gospel in a way that reaches out to everyone from teens to young adults.
The seven-episode series explores the identity, mission and call of Jesus, and you can purchase a copy of Mark's Gospel separately for your delegates so that they can follow the story for themselves.
This compelling presentation of the gospel is accessible not only to English speakers but is also available to a wider audience as it comes with Spanish subtitles included. These can be used to help those from a Spanish-speaking background as they participate in courses that are run in English, or to provide the core content for Spanish speakers using Soul in groups or as a stand-alone resource.
Don't forget to register your course for access to extra resources from Christianity Explored Ministries.
Contents
Episode 1 - Christianity is Christ
Episode 2 - Identity
Episode 3 - Mission
Episode 4 - Cross
Episode 5 - Resurrection
Episode 6 - Grace
Episode 7 - Call

Trailer for participants and leaders
Subtitles in English and Spanish

Total running time - 96 minutes
Free extras
Specification
| | |
| --- | --- |
| Age range: | 14 - 21 |
| Contributors | Nate Morgan Locke |
| ISBN | 9781907377174 |
| Format | DVD |
| Dimensions | 5.4" x 7.4" x 0.2" |
| Case quantity | 50 |
| Language | English |
| Publisher | The Good Book Company/CE |
Other information
CY is a seven-stage journey through Mark's Gospel for young people. All seven sessions are designed to bring young people to a clear understanding of the gospel with the aid of specially written talks, Bible studies, games and activities, and the optional use of the Soul DVD.
CY is the youth version of the popular Christianity Explored evangelistic course. This substantially revised and enhanced second edition of the CY course is the result of considerable feedback from the thousands who have used the course worldwide since it was first produced.
"In need of an update"
The tone of these videos is unusually dark - I remember using them with a group about 7 years ago and they just about worked. I've recently used them with a group of 14-17yr olds and at times it was excruciating - ultimately, the presentation obstructed the message. It might be time to retire these videos and rethink for the 2020s. We will continue to run the Soul course, but leaders will deliver the talks rather than use the DVDs. If you do buy, watch them first to make sure they will work with your intended group.
"Clear and Engaging"
(Review written for 'Soul Episodes (SD)')
We purchased Soul in order to support our youth work with unchurched young people. We had worked through parts of the bible through storying (effective) and Mark's gospel from books (surprisingly less retention and engagement). Therefore, we sought a video resource that fitted into our 20mins Teaching slot and was true to the Gospel... Soul has been great and we only had to supplement it with one or two refractive questions to stimulate a good conversation. Only slight criticism is that this could potentially look dated (fashion) soon. Thanks CE :)
"Great course - but please note that you also need to purchase a leaders guide"
This is a great course that we have done with youth group some years ago, our DVD etc has gone missing which is why I purchased another - PLEASE MAKE SURE THAT YOU ALSO BUY THE LEADERS GUIDE. I realised too late that this was not included!! Brilliant course though, would highly recommend it.
"Excellent value for excellent resources"
(Review written for 'Soul Digital Episodes')
When we heard about the Soul DVD resource we were very excited as we had previously used the original Christianity Explored materials with much success.
There is always the fear that as new and updated resources are expanded, especially when focused on youth, will be completely geared towards "flash" rather than content. We were so thrilled to find that SOUL has found that perfect balance. It is extremely "easy on the eye" - even for teens; and yet, doesn't miss a beat when it comes to getting the message of the gospel clearly across.
Soul is the best Teen evangelistic material that we have come across in our 20+ years of Youth ministry. Having spent many years ministering in the States we have trialed many evangelistic tools and Soul leaves them all in the dust.
Thank you for staying so true to the Word and yet making it so relevant. We are excited to see God use this resource time and again.

Rev. Glen Galbraith, pastor, Bethel Evangelical Church, Leigh Park.
"Great but intense"
(Review written for 'Soul Digital Episodes')
An excellent resource for older teens and adults.
My only slight criticism would be that the presenter whilist being an excellent communicator was very intense and could do with smiling maybe just a bit :)
"Great for use with students"
(Review written for 'Soul Digital Episodes')
I went through this DVD with some Christian students and used it as a basis for some Bible studies going through Mark. It was great! It helped explain many of the passages used so that we could spend our time focusing on just one or two passages. They found it easy to watch and were kean to show it to friends.
"Good for small groups where viewers have some interest."
(Review written for 'Soul Digital Episodes')
Very well presented; had Christians and seekers alike watching intently. Provoked lively discussion afterwards. Only the last session was disappointing. I observed concentration wavering and discussion afterwards fell flat. I think the final episode was a bit repetitive and needed greater concentration on the LIFE that Jesus offers - it became a bit dark & gloomy. Apart from that the biblical teaching and application was very good.
"Good short talks covering gospel basics"
(Review written for 'Soul Digital Episodes')
Having used the original Christianity Explored DVD talks to good effect we were looking forward to a more simple version to suit younger people or perhaps those with less concentration!
This version goes a fair way to deliver that.

The talks are shorter but still do a good job of hitting the core issues.
Sometimes the background is a little distracting and the link to the subject being presented is a little tenuous, but that's a minor point.

If anything the vocabulary and logic used is still a little demanding for teenagers who are less intelligent.

For those with short attention spans and less capacity to think, I would recomend 'Tales of the Unexpected'
"Absolutely incredible"
(Review written for 'Soul Digital Episodes')
I am involved in a children's prison ministry. The kids are 12 to 18. One of our team visited England this summer and brought back a copy of Christianity Explored. This video is absolutely incredible. It covers all of the basics in a straight forward and captivating way. The kids stayed completely focused on this film. It really made sense to them. I want to share this video with every youth pastor and even adults. I thank you from the bottom of my heart for producing this video I thank God for letting it find it's way to our ministry.
"A good resource..."
(Review written for 'Soul Digital Episodes')
I bought this as a resource for our youth group.

I've only watched the first chapter of this DVD but I must say I'm very impressed with the content, the production and the presentation.

It is a resource that would also make a great supplement to any course looking into Christianity (Alpha, CE).

The presenter (Nate Morgan Locke) is a good communicator and engaging.

I believe that where the content is pitched would make it accessible for both young and old alike.

Well worth the money as a resource to have available to speak into the 7 main topics that are pivotal to Christianity:

1 - Christianity is Chirst
2 - Identity
3 - Mission
4 - Cross
5 - Resurrection
6 - Grace
7 - Call

I think the talks may also be suitable as supplements to Sunday morning teaching in a main meeting.

Thumbs Up!!!