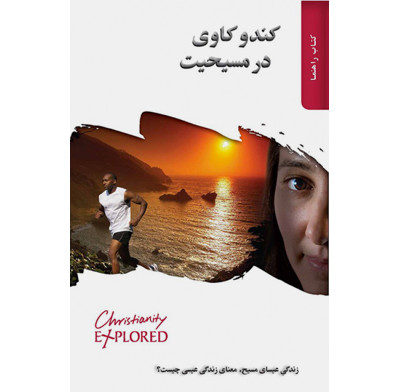 CE Leader's Handbook (Farsi)
Christianity Explored Leader's Guide
The newest edition of this best-selling introduction to the Christian faith.
Part of the Christianity Explored series.
Christianity Explored gives you time and space to think about the big questions of life and to explore the life of the man at the heart of the Christian faith.
The Leader's Guide contains everything you need to lead a Christianity Explored course. With comprehensive training material and advice, any Christian can be equipped to introduce their friends and neighbors to the real Jesus in Mark's Gospel.
Download extra material to help run your Christianity Explored course:
Extra ideas
Extra ideas that didn't make it into the manual, together with alternative talk illustrations.
Talk outlines - PDF or Word Doc
All the talk outlines for the seven CE sessions in a single document.
Christianity Explored logo – EPS or JPG
Christianity Explored Ministries logo – EPS or JPG

Braille and Giant Print
The Christianity Explored Leader's Guide is also available in Braille and Giant Print thanks to our friends at The Torch Trust. To order a copy, please call us on 866 244 2165.

Contents
Section 1: How to run the course
Getting started
Choosing and training leaders
Inviting people to come
Training modules:
1. Why evangelize?
2. God's role in evangelism – and ours
3. Being a Christianity Explored leader
4. Before the course
5. During the course
6. Identity, mission and call in Mark's Gospel
7. After the course
8. Getting our expectations right

Section 2: Study guide
Introduction
SESSION 1 Good news: What are we doing here?
SESSION 2 Identity: Who is Jesus?
SESSION 3 Sin: Why did Jesus come?
SESSION 4 The cross: Why did Jesus die?
SESSION 5 Resurrection: Why did Jesus rise?
SESSION 6 Grace: How can God accept us?
Note about day away
SESSION 7 Come and die:
What does it mean to follow Jesus?

Section 3: Day away
Before you go
Day Away teaching material

Appendices
Bible talks
Answering tough questions
Questions from Mark's Gospel
Questions about Christian belief
Can we rely on Mark's Gospel?
Specification
| | |
| --- | --- |
| Contributors | Christianity Explored, Rico Tice |
| Format | Paperback |
| Language | Farsi |
| Pages | 256 |
| Publisher | Elam Publications |
Also available in
Other information
The Christianity Explored Course has been developed over ten years by Rico Tice, Associate Minister for Evangelism at All Souls Church, Langham Place in London. This Third Edition has been thoroughly revised and updated.