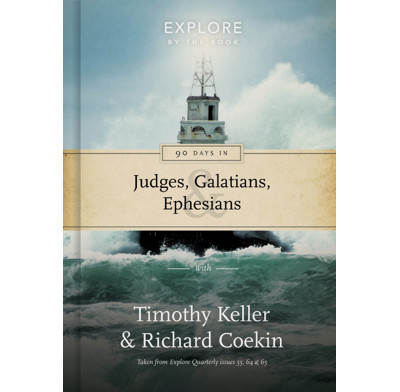 90 Days in Judges, Galatians & Ephesians
ebook
Guidance for the Christian life
Ninety days of open-Bible devotionals with Timothy Keller and Richard Coekin. Includes space for journaling.
Part of the Explore by the Book series.
Find guidance to navigate the storms of life with these insightful devotionals by Timothy Keller and Richard Coekin.
Carefully-crafted questions, insightful explanations and helpful prompts to apply God's word to your life, will take you to the heart of God's word and then push God's word deep into your heart.
These 90 devotionals in Galatians, Judges and Ephesians, taken from the Explore Quarterly range, are a great way to start reading the Bible. If you already spend time each day in God's word, this book will take you deeper in to the riches of Scripture, drawing you closer to the Lord and gaining fresh appreciation for His love for us in Christ.
Specification
| | |
| --- | --- |
| Contributors | Timothy Keller, Richard Coekin |
| ISBN | 9781784982317 |
| Format | eBook |
| First published | March 2017 |
| Language | English |
| Publisher | The Good Book Company |
"Brilliant set of notes to kick start bible reading for an adult Christian."
(Review written for '90 Days in Judges, Galatians & Ephesians')
Reading my bible by myself has always been a struggle for me. I found it hard to get into the habit and was never sure what to do. After taking about 2 and a half years to complete 'the bible in a year' my now fiancé recommended this series of notes to me!
I have worked through all 4 versions of these notes and each one has been really encouraging, challenging and accessible. I like these notes because if you want to spend up to an hour getting into the passages, there is room and space to do so. But if like me and you often have only 10 minutes, you can get a really good study. A lovely mix of commentary and questions to consider. I have since bought a set for a good friend who was struggling and he has also found these a really great set of notes! And they're SUCH good value.
"very helpful"
(Review written for '90 Days in Judges, Galatians & Ephesians')
I bought this after working through the 'John, Romans and James Explore by the Book'. I really like the format of having space to write your thoughts and prayers after each study. The studies are not too long, but have informative background information on the context, and helpful application questions to get you thinking. During Lockdown when our small group Bible study moved online, we used this book as the Bible passages are not too long to read and discuss together on Zoom!
"Really enjoyed reading this book"
(Review written for '90 Days in Judges, Galatians & Ephesians')
This book is excellent. It's prayerfully & eloquently written and very informative about all the books of Scripture referred to. It highlights a lot about our failings, how humans have been disobedient and unfaithful throughout the centuries and describes The Lord's wonderful grace & compassion. It explains how He deals with our behaviour and reminds us that we really need to trust Him, be thankful & to obey Him.