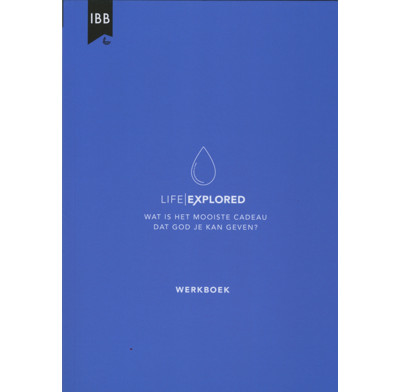 Life Explored Handbook (Dutch)
What's the best gift God could give you?
Guest Handbook for this visually stunning new outreach course from the Christianity Explored team.
Part of the Life Explored series.
Life Explored is an exciting new way to share the gospel in today's highly visual culture. Developed by Christianity Explored Ministries, the seven interactive sessions are based on stunning videos shot all over the globe.
Life Explored will help people uncover what they're really living for, and shows that the greatest pleasure in life is not enjoying the gifts God has given, but enjoying God himself. This exciting, new outreach course can be run before or after Christianity Explored or Alpha and is perfect for anyone looking for answers to life's big questions.
This Handbook contains everything a participant needs for the course, guiding them through the sessions with plenty of space for notes.
Specification
| | |
| --- | --- |
| Contributors | Nate Morgan Locke, Barry Cooper |
| Format | Paperback |
| Dimensions | 5.8" x 8.3" x 0.1" |
| Language | Dutch |
| Pages | 64 |
| Publisher | Internationale Bijbelbond |
Also available in
"A Great Resource that Addresses the Heart of what we Worship"
(Review written for 'Life Explored Handbook')
I've run this 3 times now and each time it's been very helpful for those doing the course, which basically shows how Jesus is far better than anyone/thing else we love and worship (which everyone does). Yes, like any course, it is best to adapt it to your context rather than just use it "straight out of the box". But it doesn't take too much work to tweek a few questions or add in some conversation after the first video if people are likely to be confused. Well produced.
"Great service"
(Review written for 'Life Explored Handbook')
Excellent service. Great material. Highly recommended.