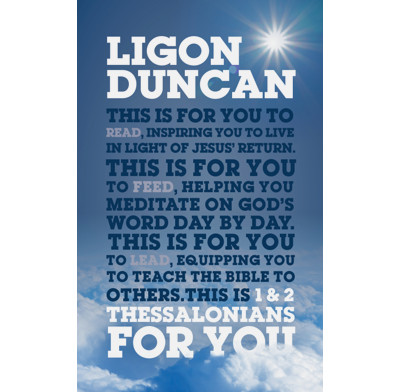 1 & 2 Thessalonians For You
ebook
For Reading, for Feeding, for Leading
Applied expository Bible-study guide to 1 and 2 Thessalonians.
Part of the God's Word For You series.
We've been saved by Jesus… so what's next? How do we discern good teaching from bad, what does it look like to grow in holiness, and what should our expectations be for the future? Find answers to those questions in the warm, instructive letters Paul wrote to the Thessalonian church.
Pastor and professor Ligon Duncan unpacks these two letters verse by verse, teaching us about Christ's future return and showing us what it means to live in the light of that, whether we're new Christians, seasoned ministers of the gospel, or somewhere in between. Along the way we see why Scripture is so important; learn to find reasons for thankfulness; clarify our beliefs about death, judgment, and eternity; and witness Paul's deeply pastoral attitude toward his readers.
This accessible, absorbing expository guide is less academic and more applied than a traditional commentary. This makes it a great resource for personal devotion, as well as useful for leading small-group studies or for sermon preparation.
There is an accompanying Good Book Guide available to purchase for small-group Bible studies.
Contents
Series Preface
Introduction
1. Life Defining (1 Thessalonians 1:1-6)
2. A Godly Reputation (1 Thessalonians 1:6-10)
3. Faithful Ministry (1 Thessalonians 2:1-12)
4. Constant Gratitude (1 Thessalonians 2:13-20)
5. The Goal of Ministry (1 Thessalonians 3:1-13)
6. How to Please God (1 Thessalonians 4:1-8)
7. We Urge You (1 Thessalonians 4:9-18)
8. Children of Light (1 Thessalonians 5:1-11)
9. Being the Church (1 Thessalonians 5:12-15)
10. Dos and Don'ts (1 Thessalonians 5:16-28)
11. Gratitude and Affliction (2 Thessalonians 1:1-12)
12. Don't Be Deceived (2 Thessalonians 2:1-12)
13. Truths to Cling to (2 Thessalonians 2:13-17)
14. Confident Prayers (2 Thessalonians 3:1-18)
Glossary
Bibliography
Specification
| | |
| --- | --- |
| Contributors | Ligon Duncan |
| ISBN | 9781784985035 |
| Format | eBook |
| First published | July 2023 |
| Language | English |
| Publisher | The Good Book Company |
"So Accessible!"
(Review written for '1 & 2 Thessalonians For You')
One thing I love about this series is how accessible these books are. These are mini-commentaries. Ligon does a fantastic job of taking us deeper into the scriptures and presenting his interpretations in a clear and helpful way. 1 & 2 Thessalonians is often overlooked but contains so much depth, instruction, and truth. I highly recommend this book!

Thank you to The Good Book Company for a copy of this book in exchange for an honest review!
"Thought Provoking"
(Review written for '1 & 2 Thessalonians For You')
This is a really helpful, thought-provoking guide through Paul's two letters to the Thessalonians which helps to take each passage both on its own merit, and in the context of the wider letters.

I personally appreciated that the author directs you to precisely the verse (or part of a verse) he's writing about at any particular time, and also prints verses in the book when necessary so I didn't feel like I was constantly flicking back and forth between books looking up references! For an easily distracted person like myself, that's no small thing!

The questions in the middle and at the end of each chapter are simple, challenging, and helpful for guiding your prayers in response to what you've just read!

If there was a fault in this guide, I think it might be in the fact that certain passages are dealt with quite briefly (perhaps to prevent the book becoming too long) that I would have appreciated a little more unpacking of. But on the other hand, it's very accessible, not too academic, and nicely applicable!
"Excellent Level of Commentary"
(Review written for '1 & 2 Thessalonians For You')
As a disclaimer, I have a lot of these books now as I think they're brilliant! They're an excellent level of some deeper biblical and theological thought for those who are leading bible studies, preaching, or just who want to dig deeper into a book of the bible, without the weight of some of the more academic commentaries. This volume on 1 and 2 Thessalonians is a helpful level exploration of the letters, really capturing the hope that we have in light of Jesus' return.
"Such a rich resource"
(Review written for '1 & 2 Thessalonians For You')
Ligon Duncan has done a fantastic job of unpacking 1 and 2 Thessalonians verse by verse, providing rich, deep, new understanding for the reader.

It has been a wonderful resource to help me dig a lot deeper into the meaning within ease passage, not allowing me to overlook anything, which can often be one's tendency when reading larger portions of scripture. It has been very profound.

I highly recommend!

Thank you for providing this copy in exchange for my honest review.
"Fantastic Resource!"
(Review written for '1 & 2 Thessalonians For You')
I had the opportunity to review the book '1 & 2 Thessalonians For You' by Ligon Duncan, as well as the accompanying study titled '1 & 2 Thessalonians: In Light of His Return:
This book can be read as a stand alone resource, however, I would highly recommend utilizing the accompanying study guide to deepen your understanding and help you to grow in wisdom, as it is such a wonderful addition to the book.
I appreciate how the book opens up with a 'preface', which gives you a step by step outline of what to expect out of this book, as well as different options on how to use it.
This deep dive study of 1 & 2 Thessalonians teaches us what it means to live for Jesus. Ligon Duncan does a phenomenal job at unpacking 1 & 2 Thessalonians: verse by verse, while continually drawing us back to scripture.
The included guide is a fantastic addition, which allows this resource to be used in a group setting. It is structured well and broken down into 8 sections.
This is the first book I have read from Ligon Duncan, and I have been inspired by his writings.
Full of inspiration and biblical knowledge, this is a powerful tool for Christians to dig deeper into their understanding of God's Word.
"powerful tool"
(Review written for '1 & 2 Thessalonians For You')
I have really enjoyed this series, God's Word For You. I have had the opportunity to read several others and have gained so much wisdom, insight, and knowledge of Scripture. I expected nothing less from this new option covering 1 & 2 Thessalonians.

The book is structured with fourteen chapters and concludes with a glossary and bibliography. The fourteen chapters break down first and second Thessalonians into small chunks of passages. Each chapter consists of two parts and each part concludes with a section of questions for reflection. This section is so beneficial throughout the entire book as it allows the reader to more fully ponder the scripture passage and how it applies to their personal lives and relationships with God.

This series is created as expository guides that walk through certain books of the Bible verse by verse. Typically expository guides can often be too educational and scholastic, but this series is wonderful in the fact that it's very relatable and engaging as well as truth filled.

I love that this can be used in personal study, group study, and academic study. It's extremely versatile and includes a leader study guide.

A powerful tool for anyone wanting to dig deeper into the word of God.

I received a copy of this book from The Good Book Company in exchange for an honest review.