Getting All Ages Excited about Talking to God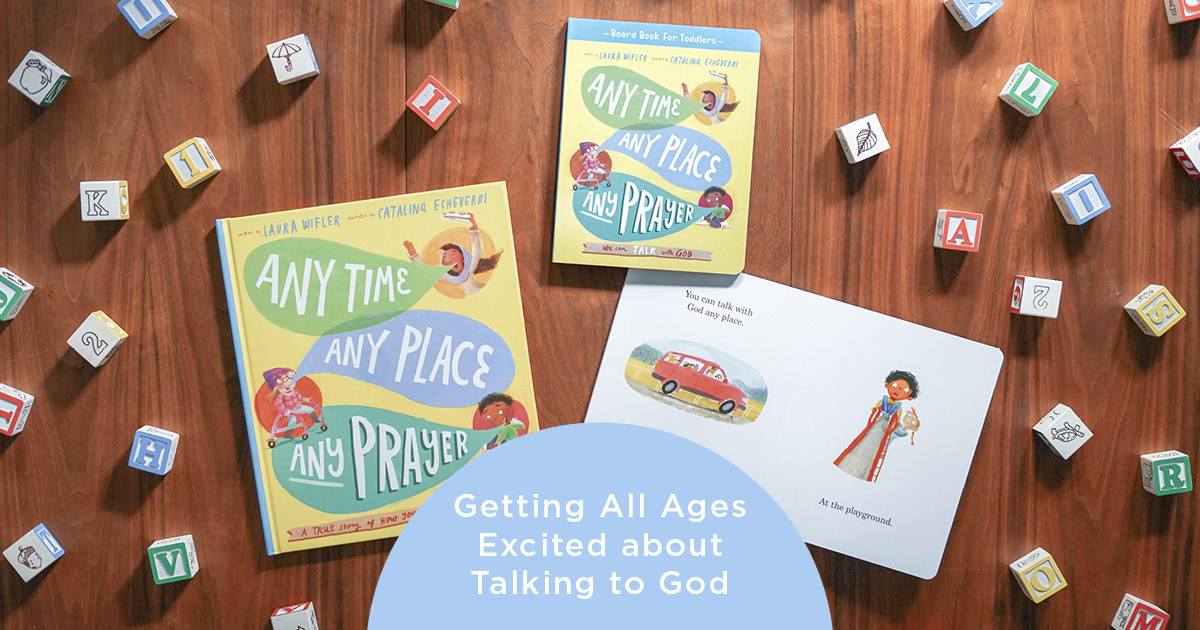 Some of us have a lot of questions about prayer—maybe so many that we feel nervous when we pray. What should we say? What about any other people listening? Do we have to wait until we're somewhere quiet?
Kids, whether they love praying or not, wonder about these sorts of things too. Any Time, Any Place, Any Prayer by Laura Wifler helps kids learn to pray and love talking to God.
Help kids get excited about praying through this storybook version of the resource for 3-6 year olds or through the simpler board book version for 2-4 year olds. Kids of all ages can enjoy the corresponding coloring book and family devotional. A bunch of free extras can also be downloaded to help kids creatively interact with prayer independently, with their family or in a Sunday School or homeschool lesson.
The Storybook for 3-6s
Intended for 3-6 year olds, the 32-page storybook version of this resource is large, hardback, and has paper pages. Big, beautiful illustrations fill the pages where the message is proclaimed through short paragraphs.
Families can read the book aloud, and independent early readers can read through the storybook themselves. Kid's ministries can use the book for read-alouds, and there are full-size, full-color illustrations that can be downloaded to display on a big screen in large-group settings.
The Board Book for 2-4s
Smaller and sturdier, the 16-page board book takes the truths of the storybook and makes them easy to understand. The board book uses simpler versions of the illustrations and shorter sentences so toddlers and other readers who appreciate a simple format can get excited about talking to God.
The Coloring and Activity Book
With 32 pages of coloring, puzzles, mazes and activities, this book helps readers interact more fully with the story. This coloring and activity book is an awesome present for anyone who can hold a pencil/crayon/paintbrush!
The Family Bible Devotional
Spend 15 days as a family exploring how to talk to God using the Any Time, Any Place, Any Prayer Family Bible Devotional. Each day, you'll walk through an easy-to-lead 10-minute devotion about prayer. Designed to be fun, these devotions will help your family to learn to pray with confidence, any time, any place. They are ideal for kids aged 5-11 and include simpler and harder questions for different ages.