The Story Behind The Book: Write It On Their Hearts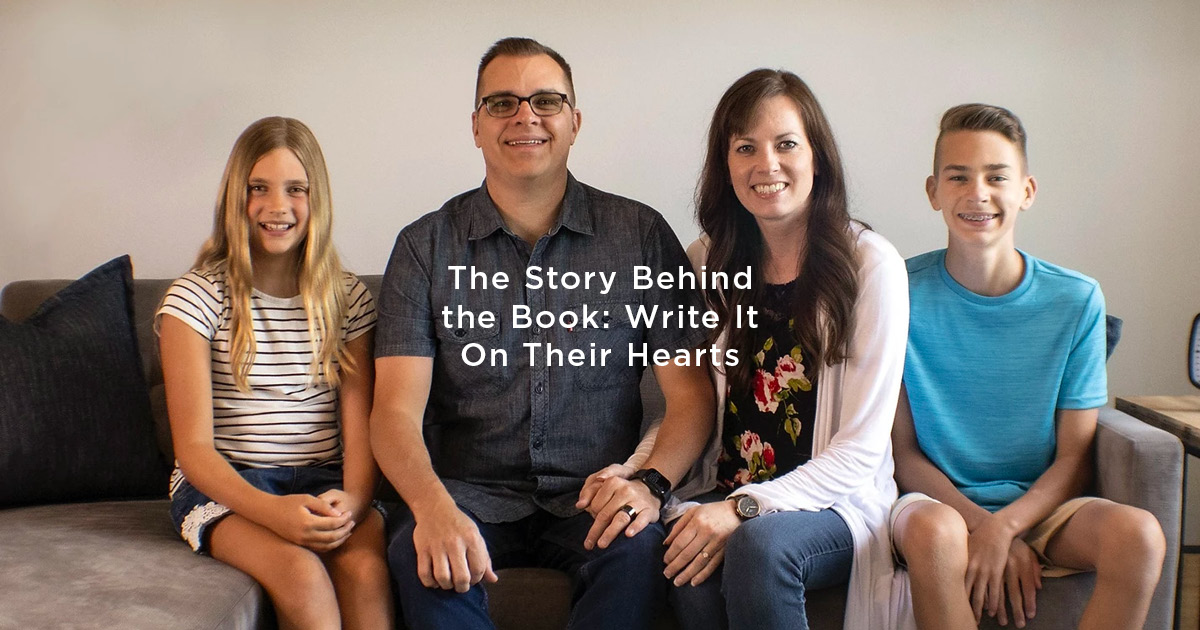 Everyone who was friends with Chris knew he lived purposefully. Everything he did was intentional.
Whether it was learning a new hobby, researching a leadership development tool, finding a new fishing lure that worked, or perfecting a card trick—all things we both loved—he was fully invested, which is why we got along so well.
One responsibility he focused on more than most was discipling his family at home. Our staff would say often, "If I was half the dad Chris was...," or "I really need to do with my kids what Chris is doing with his."
Two years ago, I lamented to Chris about the lack of discipleship resources for parents to invest in their children.
"We need someone to write about how to disciple children," I said. "We need someone who is actively practicing what he preaches to write the book." The person that came to mind was him. He disclosed, "I didn't tell you this yet, but I've been working on a manuscript outline for the past few months." I couldn't think of anyone better to provide a guidebook for discipling.
Writing can be a chore for many; however, Write It on Their Hearts was not for Chris. Regularly, I would walk into his office to find a new picture, diagram, or acrostic on his whiteboard. "Hey, do you have a minute for me to run this by you?" was a consistent phrase I heard. The writing process was life-giving from the start.
As with everything, Chris set deadlines for himself, normally months before the actual date to provide a margin for unexpected things happening. He set a goal to finish the manuscript by July 9, 2021. Why? His words were, "Pastor, that's the day before you leave for your month sabbatical. I want to get it in your hands to read and comment on while you're away."
Neither of us knew at the time how important that completion date would be.
On July 9th, while both of our wives were out of town with our children, Chris and I had planned to go to a local baseball game. Just before he was to arrive at my house, I got a call that he was being rushed to the ER. We spent the next six days at the hospital day and night, praying and waiting for Chris to come out of the non-responsive state he was in.
People from all over the country texted, emailed, and called to say they were praying alongside of us for a healing miracle. On July 15th, God answered our prayer by giving Chris the ultimate healing in heaven.
Even though he's been gone for months now, I think about him every day. I still can't comprehend why God would take my best friend prematurely. I don't know if I will ever understand this side of eternity, but that doesn't minimize my trust in His sovereign plan.
Even though Chris is not with us anymore, these final words will continue to impact lives for years to come.
Everything Chris believed about not wasting one's life, making the most of the time we have, and leaving a legacy long after you're gone was realized on July 15, the day he went to be with Jesus. He practiced everything he presents in this book. He didn't write as an ivory-tower theologian, propped up in a monastery secluded from the world. No, he shares from experience, as a fellow pilgrim on the journey of parenthood, figuring it out along the way.
Write It On Their Hearts is not just a resource to read and put on a shelf. It's a manifesto Chris and his wife, Melissa, lived by. From the vantage point of someone with a front row seat to the principles in action outlined in this book, I can attest to the impact they have made in his family and mine.

This article is the foreword of Write It On Their Hearts. In this book, author and pastor Chris Swain and his wife Melissa apply the principles of discipleship that Jesus teaches in Scripture to the family context to help parents make the most of the time you have with your kids, to both lead them to Jesus and to encourage them to be like Jesus in a Hellenistic world.