Getting All Ages Excited about Eternity with Jesus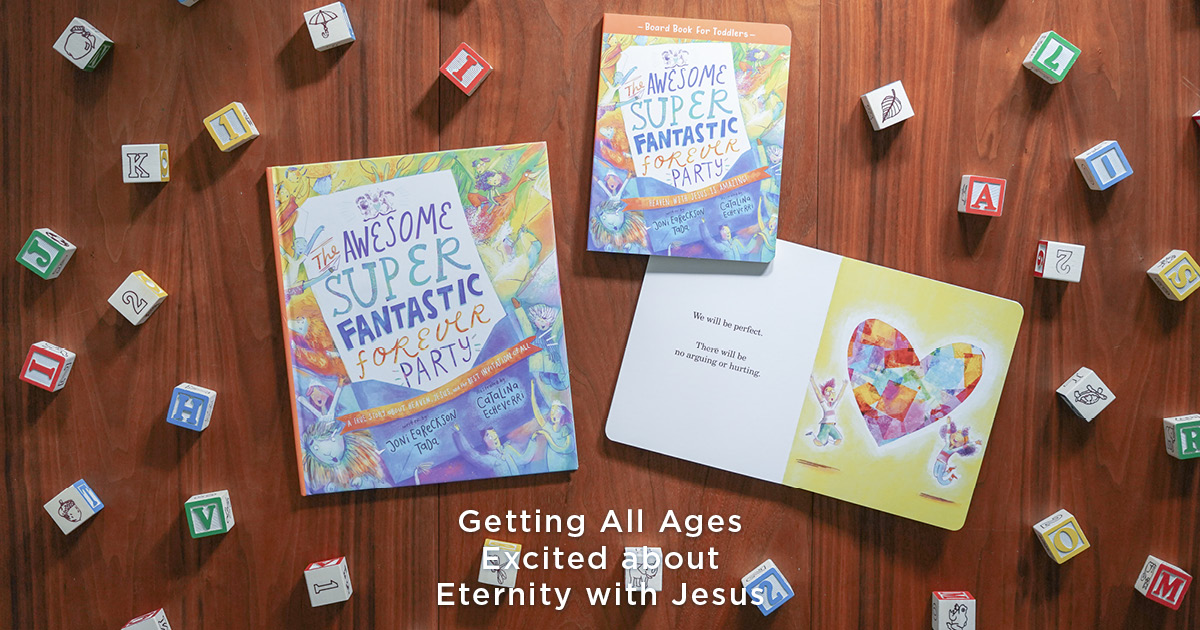 What will heaven be like? What's so exciting about spending forever in heaven? Why is Jesus the best part of eternity? Answering questions like these for kids can be challenging, especially as it's hard to get past common myths.
The Awesome Super Fantastic Forever Party by Joni Eareckson Tada excites kids with the truth about Jesus coming back to this world and how he will bring heaven with him! There will be a new creation where we'll have new hearts and a new body, living in a new city. And best of all, we'll be with Jesus, forever! It will be better than we can ever imagine.
There's a storybook version of this resource for 3-6 year olds and a simpler board book version for 2-4 year olds. Kids of all ages can enjoy the corresponding coloring book. A FREE Forever Party Kit can be downloaded for related events or lesson planning.
The Storybook for 3-6s
Intended for 3-6 year olds, the 36-page storybook version of this resource is large, hardback, and has paper pages. Big, beautiful illustrations fill the pages where the message is proclaimed through short paragraphs.
Families can read the book aloud, and independent early readers can read through the storybook themselves. Kid's ministries can use the book for read-alouds, and there are full-size, full-color illustrations that can be downloaded to display on a big screen in large group settings.
The Board Book for 2-4s
Smaller and sturdier, the 16-page board book takes the truths of the storybook and makes them accessible for toddlers. The board book uses simpler versions of the illustrations and shorter sentences so toddlers and other readers who appreciate a simple format can get excited by the basics about heaven and eternity. The main message is that Jesus' friends will enjoy a forever party with him in a perfect world.
The Coloring and Activity Book
With 32 pages of coloring, puzzles, mazes, and activities, this book helps readers interact more fully with the story. This coloring and activity book is an awesome present for anyone who can hold a pencil/crayon/paintbrush! It's also a great party favor for any family or ministry who chooses to host their own "Forever Party" as an interactive learning experience!