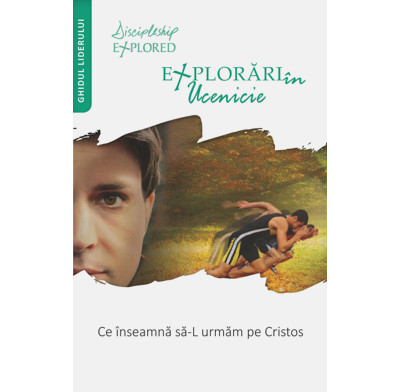 Discipleship Explored Leader's Guide (Romanian)
Following Christ. What's it all about?
Comprehensive training material and advice for leading a Discipleship Explored course.
Part of the Discipleship Explored series.
Discipleship Explored is for anyone who wants to make the most of their Christian lives, but especially for people who have recently completed an evangelistic course and decided to follow Christ.
This comprehensive leader's guide contains everything you need to run the course, as well as the questions from the participant's Handbook, complete with answers!
• Revised and updated, with a fresh new look
• Contains everything you need to lead a course
• Works alongside the Handbook and DVD
• Features comprehensive training material and advice
• Contains the talks for each session for use without the DVD
• Includes questions from the Handbook, complete with answers
Contents
Getting started
Choosing and training leaders
Inviting people to come
1. Introducing Discipleship Explored
2. Being a Discipleship Explored leader
3. Before the course
4. During the course
5. Introducing Philippians
6. After the course
Session 1: Confident in Christ
Session 2: Living in Christ
Session 3: Standing together in Christ
Session 4: Transformed by Christ
Session 5: Righteous in Christ
Session 6: Knowing Christ
Session 7: Rejoicing in Christ
Session 8: Content in Christ
Bible talks
Answering tough questions
Questions from Philippians
Questions about Christian belief
The background to Philippians
Map
Specification
| | |
| --- | --- |
| Contributors | Barry Cooper |
| ISBN | 9786068247359 |
| Format | Paperback |
| Language | Romanian |
| Pages | 176 |
| Publisher | Faclia |
Also available in