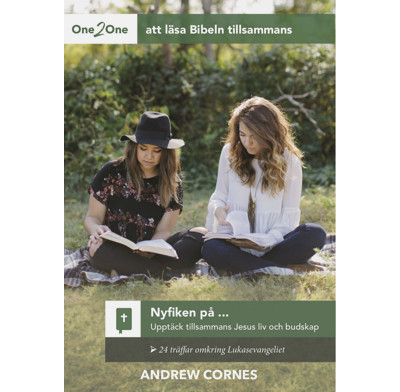 One2One - Just Looking (Swedish)
Exploring together the life and message of Jesus
For anyone who wants to find out who Jesus is and what he offers - or who wants to help a friend to do that.
Part of the One2One series.
• Do you want to get to grips with what Christianity is all about?
• Or do you have a friend who is interested in finding out about your faith?
One2One Just Looking helps you get to the heart of the Christian message as you read through the Gospel of Luke with a friend.
You'll explore the extraordinary life of Jesus Christ as you read about his birth, teaching, miracles, trial, death and resurrection. And along the way, you'll be able to think through for yourself some of the questions you have about the Christian faith.
The One2One series is for use by two friends who meet regularly to look at what the Bible says. Just Looking contains 24 studies but can be used flexibly—you can plot your own route through, or follow one of three suggested ones.
Contents
1. Is this book reliable?
2. What was happening at Christmas?
3. What was John the Baptist's message?
4. How was Jesus tempted?
5. Is it worth trying again?
6. How should we treat those who dislike us?
7. Why do people love Jesus?
8. How can I be changed by Jesus' teaching?
9. What does it cost to follow Jesus?
10. How can I love God and my neighbor?
11. How should I pray?
12. Will God answer my prayers?
13. How can Jesus help me with money worries?
14. How can I be ready for Jesus?
15. Can I leave it too late?
16. How does God react to my excuses?
17. How can I come back to God?
18. What kind of person does God accept?
19. What does the communion service mean?
20. What happens when I let Jesus down?
21. How do I respond to Jesus' death?
Where you're at now
22. What happened on Easter Sunday?
23. What's the evidence that Jesus is alive?
24. What am I to do now?
What next?
Specification
| | |
| --- | --- |
| Contributors | Andrew Cornes |
| ISBN | 9789198406696 |
| Format | Paperback |
| Dimensions | 5.9" x 8.9" x 0.2" |
| Case quantity | 50 |
| Language | Swedish |
| Pages | 64 |
| Publisher | Reformedia |