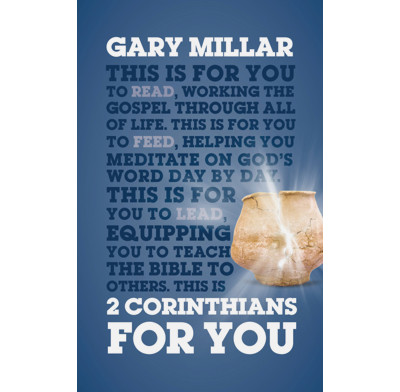 2 Corinthians For You
ebook
For reading, for feeding, for leading
An expository Bible-study guide to the book of 2 Corinthians that can be used as a devotional, teaching or preaching resource.
Part of the God's Word For You series.
In 2 Corinthians For You, Gary Millar walks readers through the hard truths that Paul sets out in this deeply personal letter. It reveals Paul's heart for Christ's wayward "children"—one filled with the true love of Christ.
As with the whole series, this expository guide gives careful attention to the text and its meaning, and is a vital resource for preachers and teachers as well as nourishing spiritual food for any Christian. It can be read as a devotional, used for leading small group studies or used for sermon preparation.
There is an accompanying Good Book Guide available for small group Bible studies.
Contents
1. Beginning with God 1:1-11
2. A matter of trust 1:12 – 2:13
3. Come and join the parade 2:14 – 3:18
4. Life as a plastic bag 4:1-18
5. Seeing through the gospel? 5:1-21
6. Make your mind up time 6:1 – 7:1
7. Because I'm happy 7:2-16
8. Give like a Macedonian 8:1 – 9:15
9. The elephant in the room 10: 1-18
10. How to be a complete idiot 11:1 – 12:21
11. Love wins again 13:1-14
Specification
| | |
| --- | --- |
| Contributors | Gary Millar |
| ISBN | 9781784984083 |
| Format | eBook |
| First published | April 2020 |
| Language | English |
| Publisher | The Good Book Company |
"Outstanding for pastors and those pastored"
(Review written for '2 Corinthians For You')
This is a wonderful devotional read. As a pastor, I was lovingly confronted and blessed on almost every page. Gary Millar brings us closer to Paul's passionate heart for the difficult church in Corinth, with help from Calvin, Piper, Baxter and others along the way. On the last page he asks us "Can we feel the warmth?" referring to Paul's love. I also felt the author's warmth for all who would read this. Highly recommended!