10 Bible Verses About Family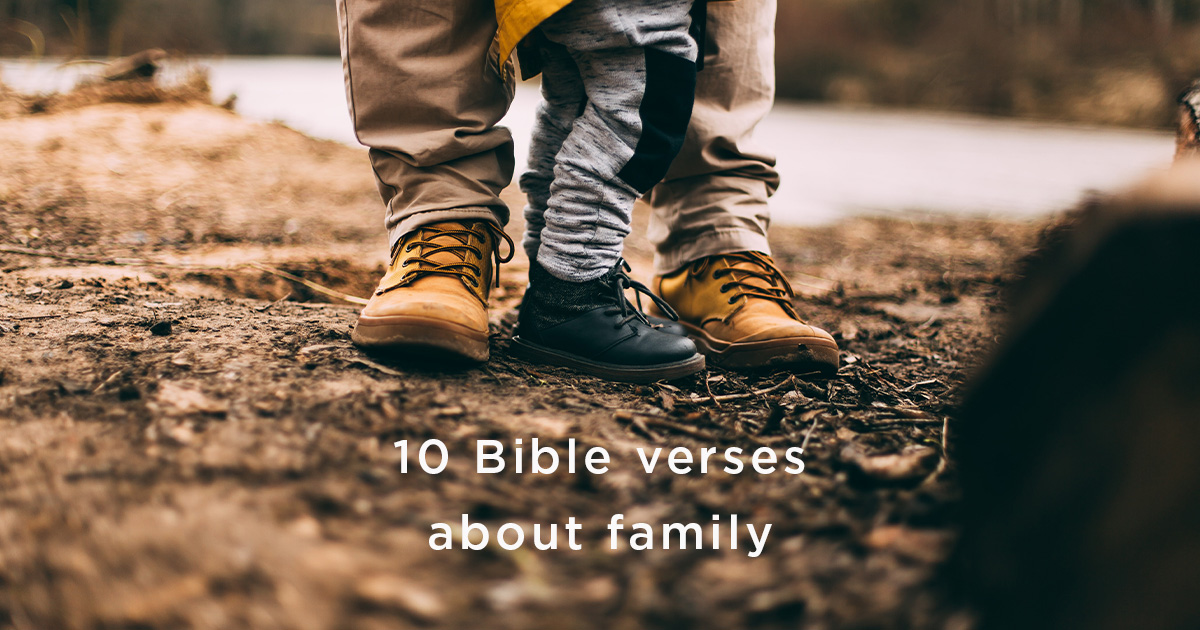 When we brought our first son home from the hospital, my husband and I couldn't get over how the doctors and nurses had just sent us on our way with a newborn. We felt like babies ourselves, but they had entrusted a tiny person to our care without any sort of instruction manual.
Though babies don't come with a how-to guide, God has graciously given us a book full of instruction and encouragement for families. It may not teach us how to change a diaper, but the Bible teaches us how to love our households in a way that honors God. Here are ten Bible verses about family that God has given to us in his word:
Bible Verse for Marriage
He who finds a wife finds what is good and receives favor from the Lord. (Proverbs 18:22)
Marriage is a kindness from God intended to bless us. If you're married, pray that he would show you and your spouse his favor by strengthening your love for each other and for Christ.
Bible Verse for Parents
Love the Lord your God with all your heart and with all your soul and with all your strength. These commandments that I give you today are to be on your hearts. Impress them on your children. Talk about them when you sit at home and when you walk along the road, when you lie down and when you get up. (Deuteronomy 6:5-7)
One of the greatest gifts we can give our children is the knowledge of God's word. Are God's promises and commands part of your everyday household conversations? If not, consider how you might incorporate them into your family's routine.
Bible Verse for Children
"Honor your father and mother"—which is the first commandment with a promise—"so that it may go well with you and that you may enjoy long life on the earth." (Ephesians 6:2-3)
It's one of the first commands we teach our small children, yet we seem to forget that it applies to grown-ups as well. When we choose to honor our parents, we reflect our merciful Savior who honored us despite our own sinful state. We honor our mothers and fathers because of Christ, for Christ, and through Christ alone.
Bible Verse for Grandparents
Children's children are a crown to the aged, and parents are the pride of their children. (Proverbs 17:6).
God loves the generations—they're part of his good design for families. If you're a grandparent, pray that you would treasure your grandchildren and find great joy in those special relationships. Ask God to help you proclaim his works to the next generation.
Bible Verses to Help You Love Your Family
If it is possible, as far as it depends on you, live at peace with everyone. (Romans 12:18)
As Christians, we're called to follow Christ's example by living at peace with everyone—including family!—as far as it depends on us. Thankfully, we don't have to muster up peace in our own strength. The Prince of Peace equips us to make peace with others.
[Love] does not dishonor others, it is not self-seeking, it is not easily angered, it keeps no record of wrongs. (1 Corinthians 13:5)
Family members may be some of the most difficult people to forgive. After all, we expect them to protect us, not cause us pain. If a family member has sinned against you, pray that God would help you to be willing to forgive them. Confess any bitterness you have toward them and entrust your pain to Christ.
In your relationships with one another, have the same mindset as Christ. (Philippians 2:5)
Jesus "made himself nothing by taking the very nature of a servant ... he humbled himself by becoming obedient to death—even death on a cross!" (Philippians 2:7-8). Our heavenly Father wants us to imitate his son by considering the needs of our family members and serving them with humility.
Do not let any unwholesome talk come out of your mouths, but only what is helpful for building others up according to their needs... (Ephesians 4:29)
Words are powerful. Ask yourself: do I speak biting words that tear down those I love or gracious words that build them up?
Bible Verses About God's Family
My Father, who has given them to me, is greater than all; no one can snatch them out of my Father's hand. (John 10:29)
When human love wavers, God's love endures. Thank him for loving you so much that he has called you his child and has promised never to let anyone snatch you out of his hand.
For the Lord is good and his love endures forever; his faithfulness continues through all generations. (Psalm 100:5)
The Lord has been faithful to past generations, he is faithful to our generation, and he will continue to be faithful to future generations. Take a moment to recall specific instances of God's faithfulness toward you and your family, and praise him for it.
Blessings Found in Bible Verses About Family

The Bible says that God has named every family in heaven and on earth (Ephesians 3:14-15), and he has given us good instructions for loving the people he has assigned to us. When we follow his ways as laid out in these Bible verses about family, we'll find that our families can be a source of great blessing through which we experience love, provision, and community. May God bless you and yours as you seek to honor him by loving your family.