7 Tips for Finding Good Bible Studies for Your Group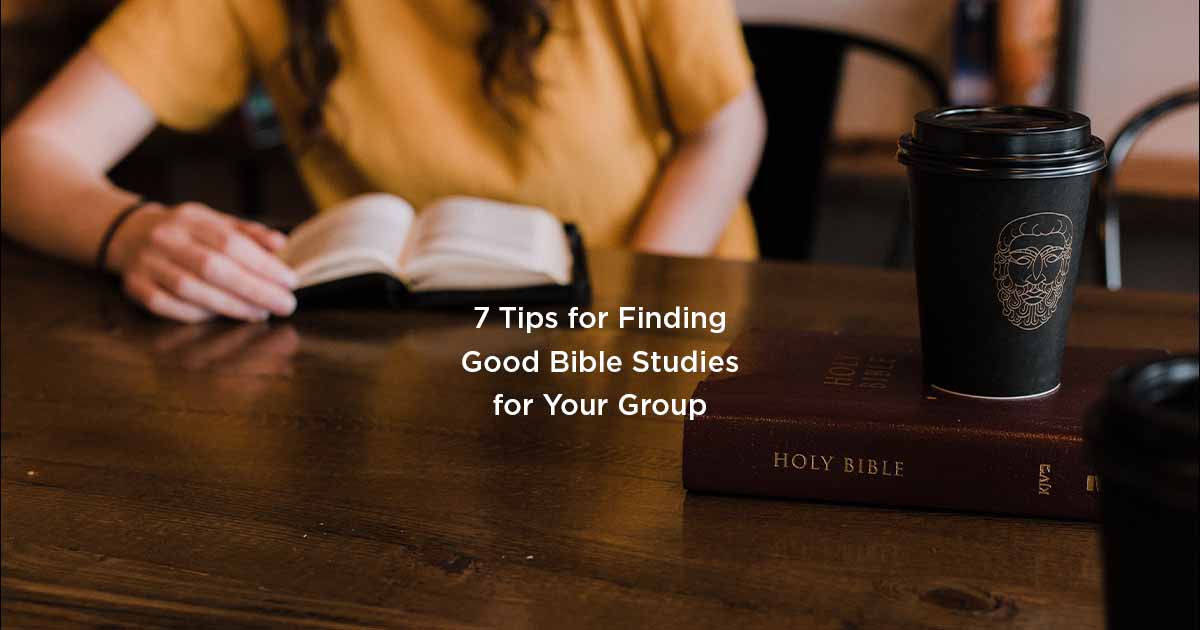 Where do you start when it comes time to pick a good Bible study for your small group? Some of us start by searching for studies about a book of the Bible we'd like our group to look at together. Others might see what's new at their favorite Christian bookstore or on one of their favorite Bible teacher's websites.
These methods of browsing are great starting points for finding a good Bible study, but there are also some crucial questions to consider if you want the study to work practically for your group. Before deciding which Bible study to do, consider:
1. Will the Bible Study Actually Have Participants Study the Bible?
While this may seem like a silly question, a range of types of resources are called Bible studies. There are many that explain a lot about the Bible but don't require participants to open the Bible themselves. Some ask many subjective questions, never giving context or clarity about the Bible passages included. So before you consider other practical details, click on a "look inside" or "preview" option and see if the Bible study actually asks participants to read the Bible!
2. How Many Sessions Are You Hoping to Host?
One of the most practical aspects of planning a Bible study is figuring out the timeline. Many Bible studies are broken up into sessions so that you have a certain Bible passage or theme to cover each time your group gathers. For groups gathering weekly, it's common to host 6-12 sessions. These may coincide with a portion of the school year or church calendar. Monthly groups are usually better served by a 4 or 5-session Bible study. If your group would like to walk through a Christian book together, you can often adapt the book into a Bible study by making each chapter a session and looking up any Bible passages mentioned.
3. How Much Prep Work Can You Reasonably Do?
If you're leading a Bible study, participants will likely look to you to guide the discussion and have an idea of what the material is about, including any needed background information about the Bible passages. To lead well, you may need to prepare in advance. Some Bible studies will require lots of prep work, such as completing questions, doing research, reading commentaries, preparing lesson plans, or collecting materials. Others may offer a leader's guide as a separate product or in the back of the Bible-study book, giving you everything from brief pointers to all the information you might need in advance.
4. How Conversational Do You Want the Group to Be?
The format of a Bible study varies widely. Some will include a teaching time, when a video of a short lesson is played or a Bible-study leader delivers a lesson. The teaching time might be followed by a discussion time, or just a short Q and A. Other studies are more discussion-oriented, with the whole study being about answering a series of questions together. There are also studies that include interactive elements, worksheets, projects, activities and more that involve socializing throughout. Depending on your group dynamic, one of these formats may work better than others.
5. Is Your Group Prepared for Homework?
It's very common for Bible studies to have homework for participants to complete on their own between sessions. Often, answers to the homework form the basis of the next discussion time as a group works through the questions and their responses together. Be sure to consider how much time participants are likely to have for this. A group of moms, for example, might be unlikely to be able to participate in a study with daily homework. They may do well with a study that requires an hour of homework weekly, which can be completed whenever they have spare moments.
6. Do You Plan to Have a Teaching Time during Bible Study?
If you'd like a Bible-study format that includes a teaching time, you'll either need to be prepared to create and deliver a lesson yourself, to divvy up teaching among participants, or to play a video of prerecorded teaching. Some Bible studies include or can be purchased with video teaching sessions. Love Your Church by Tony Merida is an example of a book that has free teaching videos available, as well as a discussion guide to work through the Bible passages mentioned in the book. Other Bible study books, such as Good Book Guides, might have a companion book, such as the God's Word For You series, to help you prepare a teaching time yourself if you'd like to have one.
7. Will Each Participant Need a Copy of the Bible Study?
Often Bible-study participants expect to purchase a book as part of the experience. Their individual copy of a Bible study might be how they know what the homework is and may even be where they complete homework. For studies without homework, having a physical copy of the Bible study during teaching or discussion times may increase engagement and enable participants to follow along. Keep the cost of the Bible study for all participants in mind when making your selection. Many retailers will offer discounts when you buy more than 10 copies, so it may be beneficial to order multiples of the book and have Bible-study participants reimburse you.