New Bible Storybook for Kids Releasing Fall 2023 from The Good Book Company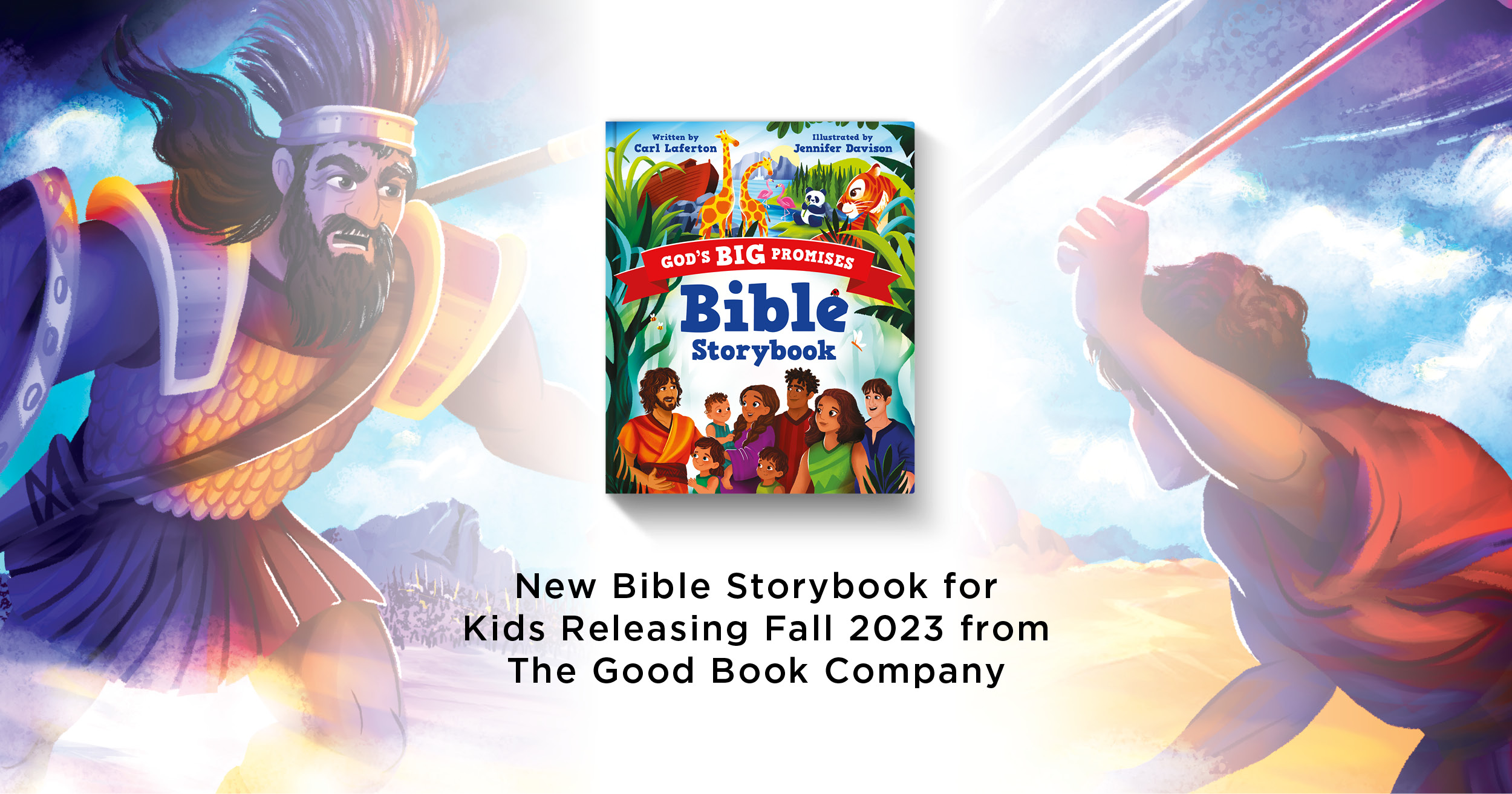 CHARLOTTE, NC - The Good Book Company is excited to announce the upcoming release of God's Big Promises Bible Storybook (The Good Book Company, September 2023).
This collection of 92 Bible stories is written by Carl Laferton, author of the bestselling book The Garden, The Curtain and The Cross (The Good Book Company, February 2016), and illustrated by Jennifer Davison, the artist behind the beloved kids' book series Very Best Bible Stories (The Good Book Company).
Designed for reading aloud to kids from their earliest days, God's Big Promises Bible Storybook contains vibrant and historically accurate illustrations as well as simple, faithful, kid-friendly retellings of Bible stories. Included are both familiar stories such as Noah's ark, David and Goliath, and Daniel and the lions' den, along with lesser-known parts of the Bible like the golden calf, Joshua's farewell, Isaiah, and Philip and the Ethiopian.
One of the unique features of the Bible Storybook are five themed paths to follow throughout, each one tracing one of God's promises through Scripture. Readers can identify the promise being made and the promise being kept through memorable icons on the pages. This equips even very young readers to see that together, these 92 theologically faithful stories point to the one big story of the Bible: God making and keeping his promises to redeem his people.
Laferton, who serves as EVP Publishing at TGBC, says "From their youngest days, our kids need to hear the foundational stories of Scripture told faithfully as well as simply—and to see how they tell the big story of our promise-keeping God. My prayer is that young kids will grow up confident and excited that, through Jesus, God always keeps his promises."
Reflecting on the decision to publish this new bible storybook, James Burstow, president of The Good Book Company, says, "A passion for God's word is at the heart of everything we do at The Good Book Company and so we are thrilled to be launching this new Bible Storybook for younger children. So much prayer and careful thought has gone into the writing and illustration and now we can't wait for families and churches around the world to start reading it together and rejoicing in our faithful, promise-keeping God!"
For media inquiries and access to promotional assets, contact: publicity@thegoodbook.com.
ABOUT THE AUTHOR
Carl Laferton is EVP Publishing at TGBC. He is the bestselling author of the kids' books The Garden, the Curtain and the Cross and The God Contest, and also serves as series editor of the God's Word For You series. Before joining TGBC, he worked as a journalist, a teacher, and pastored a congregation in Hull. Carl is married to Lizzie and they have two children. He studied history at Oxford University.
ABOUT THE ILLUSTRATOR
Jennifer Davison is an illustrator from Northern Ireland. Having worked as a digital artist in the animation industry, Jennifer now pursues her passion for children's picture books. She strives to have a deeper intimacy with God, while cultivating her spiritual gifts so that she can walk in the fullness of what God has called her to. Realizing that creativity and spirituality are connected unlocked something in Jennifer. A desire to reveal heaven's culture through creativity, to illustrate visuals that tell stories which have the power to transform lives.
ABOUT THE GOOD BOOK COMPANY
Founded in 1991, The Good Book Company (TGBC) is an international Christian publisher. Their Bible studies, books, devotionals, videos, tracts, evangelistic courses, and training materials are used throughout the English-speaking world, and in translation in over 35 languages worldwide. Everyone at TGBC is passionate about the Lord Jesus, His word, His church, and His gospel of grace. They create and publish biblical, relevant, and accessible resources that will encourage Christians to keep going, keep growing, and keep sharing their faith.