Am I Not A Slave And A Brother? How Scripture Subverts Slavery
Slavery is clearly one of those things that people bump on when they come to the Bible. It feels very alien, and even immoral in our current age, and rightly so!
As well as this, in the times of abolition there were sincere Christians arguing from the Bible on both sides of the debate, which is very confusing for us today. So I think there are a number of things we've got to say.
Firstly, the debates that were happening in the US over slavery were incredibly bound up with issues of race. For instance, it would have been inconceivable for a white man in the US to be a slave. It was basically just Africans.
In the ancient world, however, slavery was not so tied to race, as it was common to pretty much all societies and continued to be so for many centuries. It was much more about economic and military priorities. The Roman Empire would not have functioned or grown without slavery. One estimate has a third of the residents of ancient Rome as slaves, and in all kinds of different roles, some with great responsibilities. They would often be more like middle managers of today.
Colossians & Philemon For You
$22.99
$17.93
Root your confidence in the right place as you dwell on Paul's letters to the Colossians and Philemon
Woven into the very fabric of society
Slavery was essential to the way in which the ancient world worked, so much so that one equivalent we could look for in modern life would be the centrality of and our dependence on electricity. So for somebody to have come in and said, "Abolish slavery now" in the ancient world would be like someone coming to modern Britain and saying, "Stop using electricity tonight."
Does that mean that the Bible is comfortable with slavery? Well, it's actually much more subversive than people think, and Paul's letter to Philemon is a very interesting case in point.
Philemon is a key member of the Colossian church who had been converted through Paul (Philemon v 19). He owns a slave by the name of Onesimus—a name which ironically enough means "useful".
Onesimus has absconded from his owner, quite possibly stealing funds from Philemon (how else would he survive?). In parts of the Roman Empire, the maximum punishment for this was death, although it is not possible to be sure whether or not this was followed in the Turkish provinces. So an owner who spared his runaway slave the death penalty would have been very gracious indeed (by the standards of the day).
Onesimus finds his way to Paul—which is one reason for suspecting Paul's imprisonment happened in Ephesus (since it is much closer than Rome). Is this because Onesimus heard Paul mentioned in the church that meets in Philemon's home in Colossae? Or because he searched out Epaphras, whom he'd known from before? Whatever the reason, Paul leads Onesimus to Christ (v 10). This new spiritual reality has transformed him.
Now look at the argument Paul uses as he writes his to friend Philemon about his runaway slave Onesimus. He's sending him back to his old slave master, and that seems weird, but the way he does it is very subtle and clever. He basically says, "receive Onesimus not so much as your former slave, but now as your full brother in Christ. He's useful to me and I'm going to really miss having him around as a partner in the gospel."
Everybody in the church in Colossae would have known both Philemon and Onesimus and they would have been watching to see how this little interaction was going to play out. It was a sort of test case if you like of the truths he mentions in his corresponding epistle to the Colossians about our identity in Christ trumping everything.
So we're all wondering how this is going to work out and I think it would have been impossible for Philemon to treat Onesimus in the way he had done before as a result of reading Paul's letter. I think he's been very clever, and in a subtle, low-key way he is subverting the whole business of slavery one case at a time.
A blueprint for the abolitionist movement
Paul's letter to Philemon was actually a key document for Wilberforce and the rest of the campaigners against against slavery. Many of them were compelled by their love for Jesus Christ, and one of their most powerful campaign tools was a medallion produced in huge quantities by the renowned potter and industrialist, Josiah Wedgwood. This depicted in profile a kneeling but chained African slave, looking up and pleading. Around the rim ran these words: "Am I not a man and a brother?" The image managed the eighteenth-century equivalent of going viral, and without doubt helped to gather mass support for the anti-slavery movement.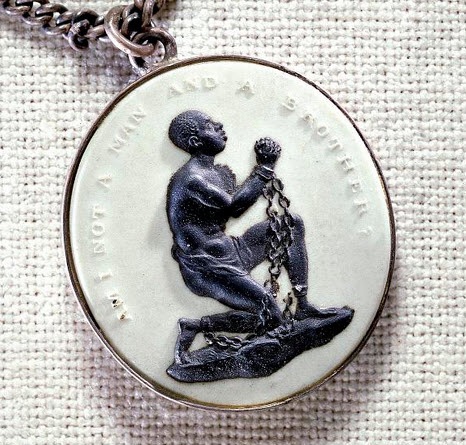 There is no doubt that this branding and strapline was drawn from Paul's letter, in particular verse 16...
"[He is] no longer...a slave, but better than a slave...a dear brother. He is very dear to me but even dearer to you, both as a fellow man and as a brother in the Lord."
This is an extract from Mark Meynell's book Colossians and Philemon for You. God's Word For You is a series of expository guides which walk you through books of the Bible verse by verse. These flexible resources can be used for reading, for feeding and for leading: read them simply as a book; use them to feed on God's word as a daily devotional, complete with reflection questions; or use them as you prepare to lead small-group Bible studies or teach in your church. Buy it here.