What's On Our Bookshelves?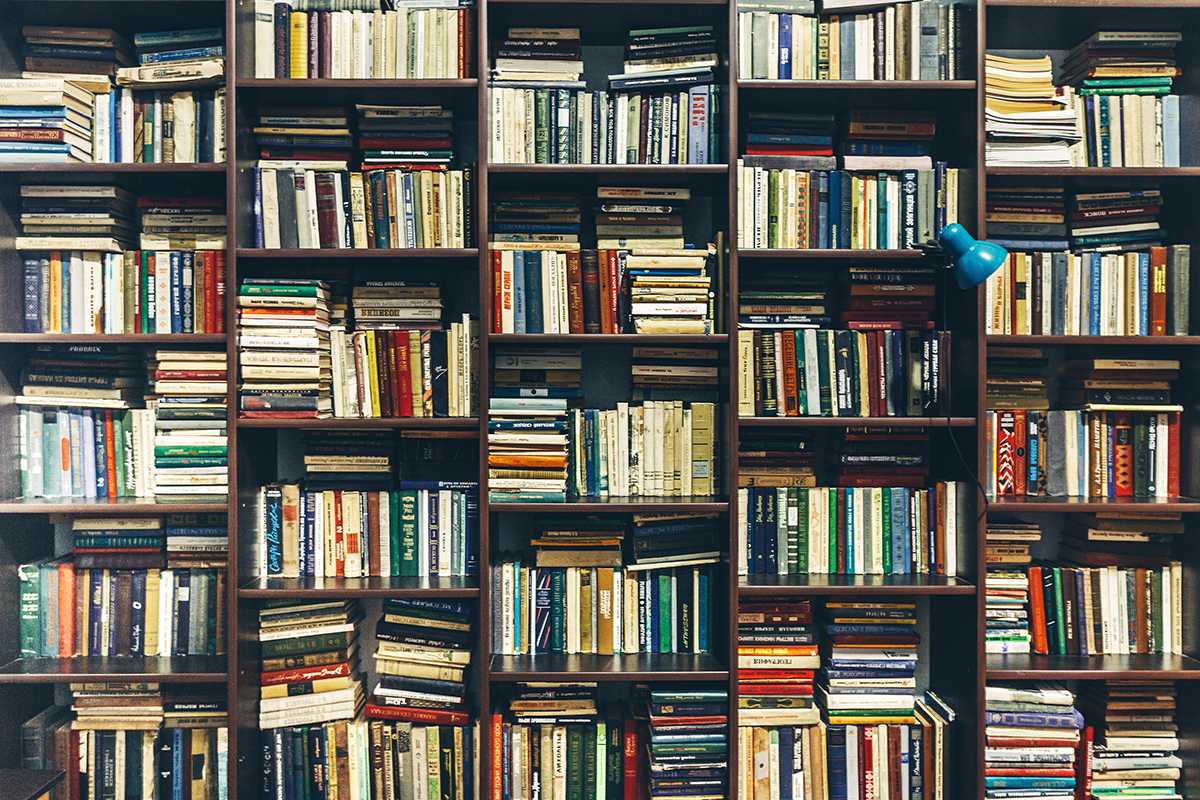 Have you ever visited someone's home and taken the time to interrogate their bookshelves? It can be a surprising experience; you think you know someone and then you discover that they've been reading that book. *shudders* Or maybe you didn't know them very well, and you spot one or two books that spark a conversation that turns into a life-long friendship.
Our bookshelves say a lot about who we are - what ideas have lived with us, challenged us and formed us.
To celebrate World Book Day, I asked the staff members at The Good Book Company to share a photo of their bookshelves and tell us a bit about them.
Carl Laferton
Editorial Director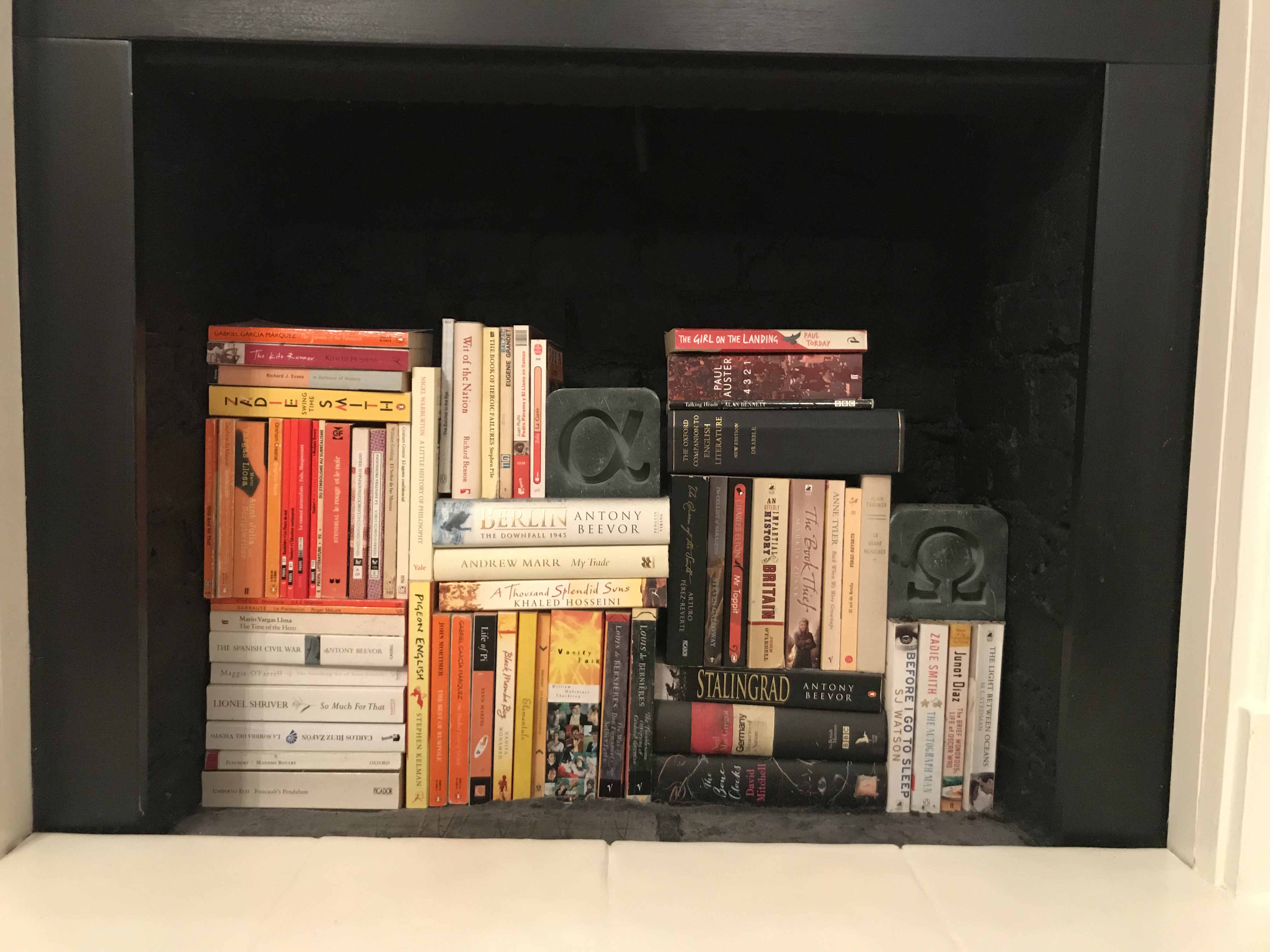 We don't use our fireplace for fires, so we use it as a 'bookshelf.' The ones that have had most impact on me, I think, are 'Talking Heads' by Alan Bennett - I read it (and watched it) as an older teen, and learned to appreciate subtlety and how much you can say by not saying something; and 'Berlin: The Downfall 1945' by Anthony Beevor - Beevor is a superb historian, and it was very moving to read (and re-read, and re-read) because my own grandparents were Germans who lived on the eastern front (though much further south than Berlin). Oh, and though it's not exactly a literary tour de force I have always enjoyed 'The Book of Heroic Failures' - great for sermon illustrations and for making you feel better about yourself!
Tim Thornborough
Creative Director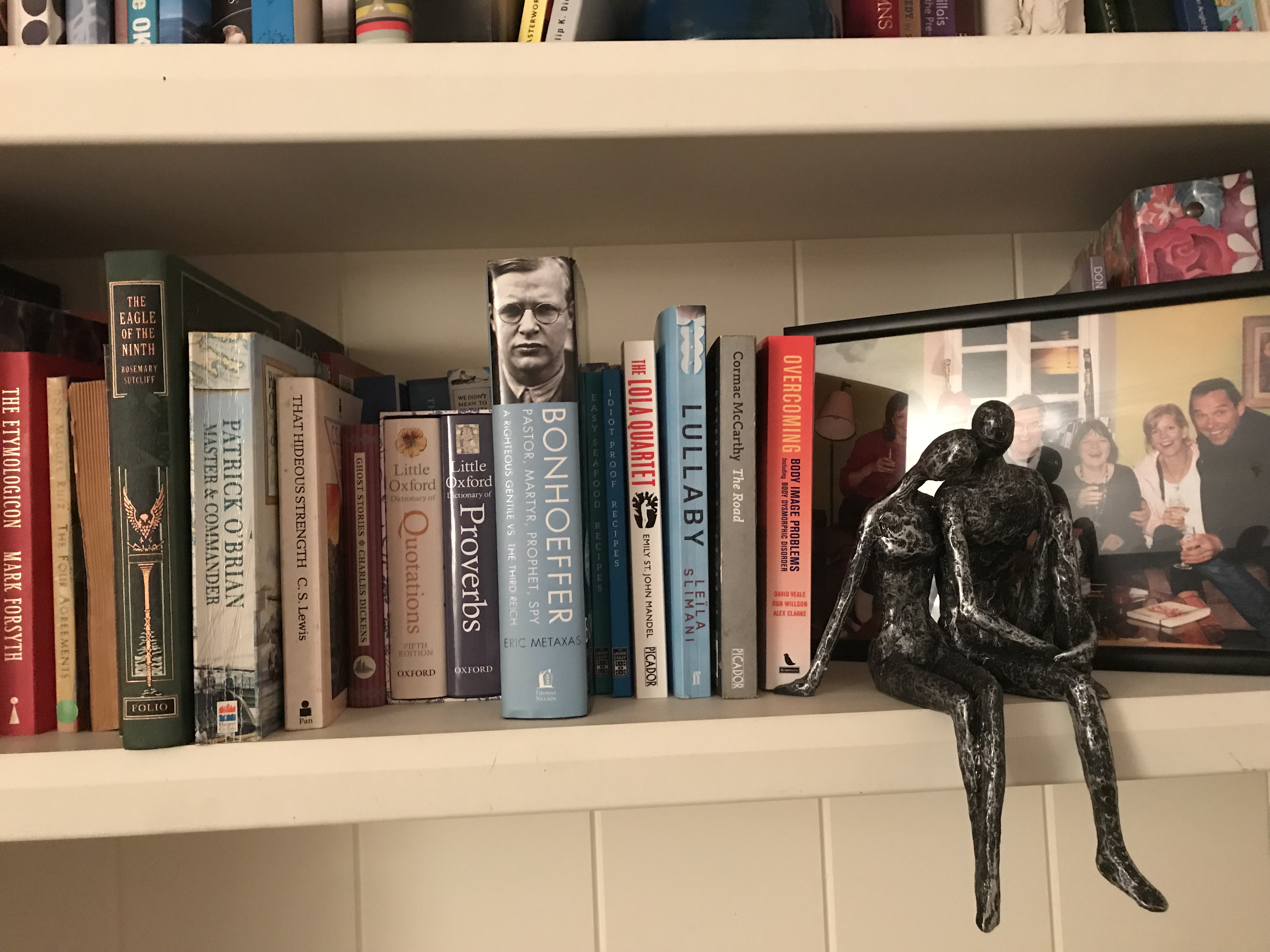 My bookshelves are chaotic — and I love mixing things up. It's just the way my mind works. It features some important books and resources over the years — C.S.Lewis's less well read Science fiction books, Patrick O' Brien's Master and Commander (a friend once described this series as "crack cocaine for intellectuals" — I am an addict) The Eagle of the Ninth still has power to thrill since I read it at 14. Some Editing and writing tools (Read everything you can by Mark Forsyth) and the haunting, raw power of Cormac McCarthy's The Road. Bonhoeffer dominates, but is as yet unread. It's nestled by my anniversary gift to Kathy last year (27 years demands a sculpture), and a photo from a glorious New Year's holiday in France with friends from Australia.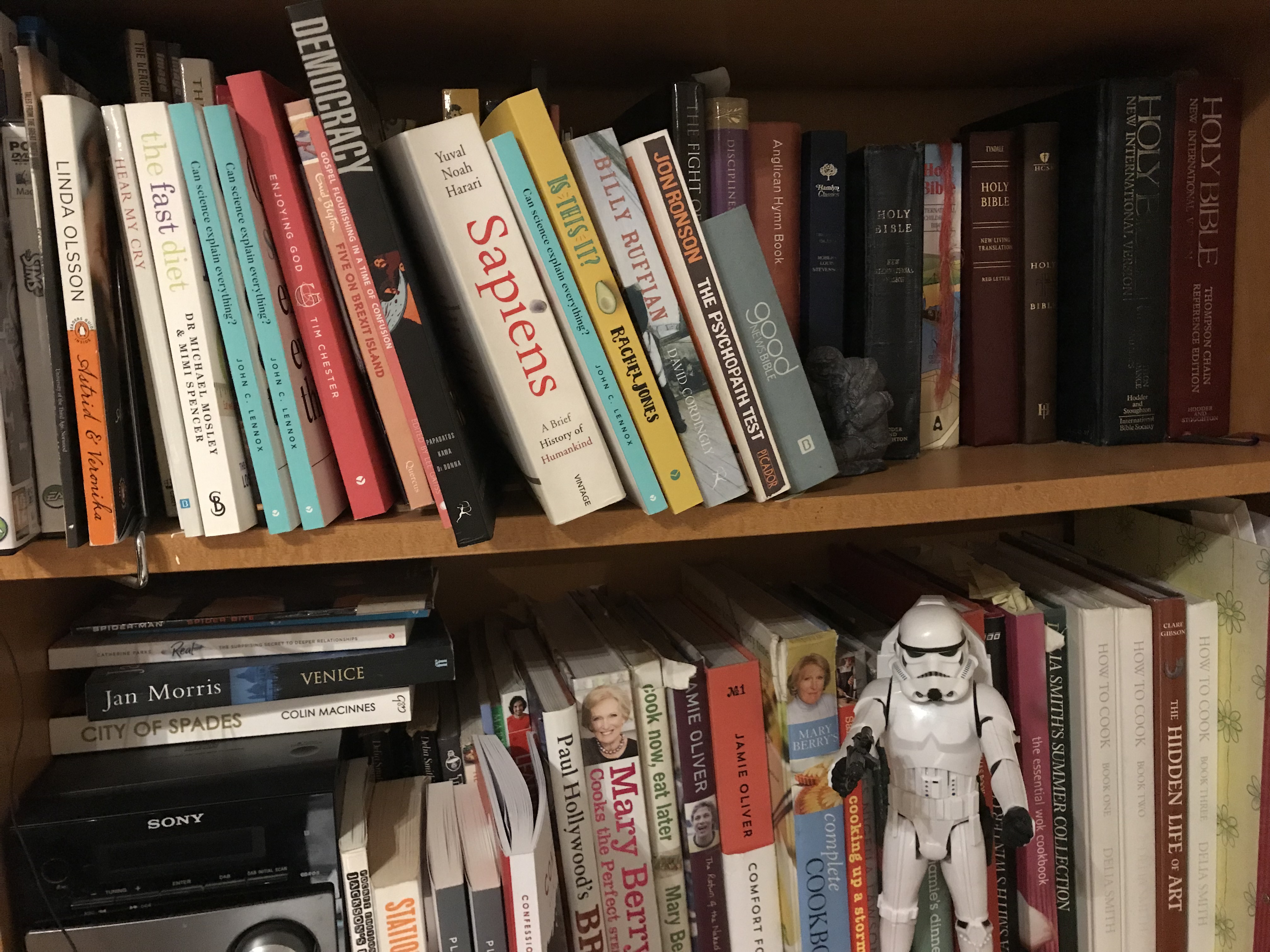 As an editor, I need to keep on top of best-selling non fiction so that we can be creating and commissioning books that speak into the current culture. Sapiens is powerful, mind blowing, but ultimately flawed. The Psychopath Test is a not very good investigation of the mental health industry. Democracy is a graphic novel about the birth of democracy in Athens. I have several copies of Can Science Explain Everything? so that I can give away to friends. At the end are some older much used, much loved Bibles — it just feels wrong to throw them away, doesn't it. Below, a stormtrooper (with sounds!) keeps guard over Mary, Jamie and Delia.
Eleanor Elms
Marketing and Publicity Assistant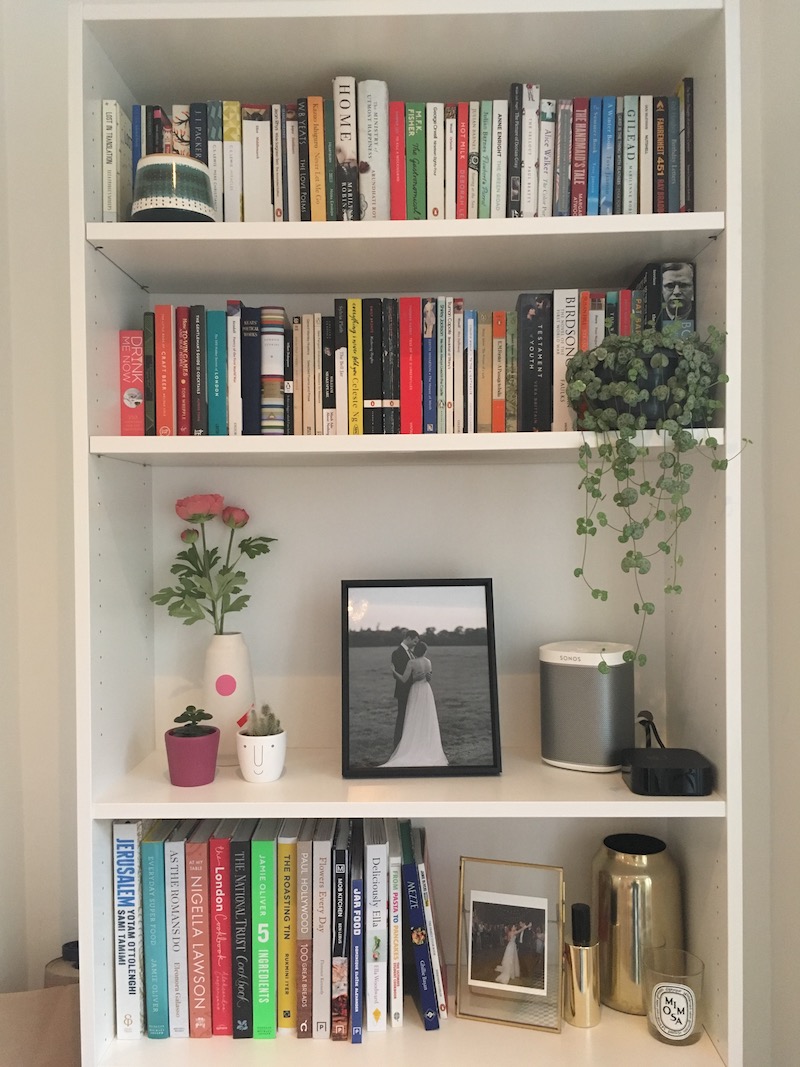 The top 2 shelves feature some of my fiction books—I love how much colour they bring to our otherwise very neutral living room. The bottom shelf is home to cookery/lifestyle books. The rest is all candles, vases, wedding photos and plants. We like plants a lot in our house! This little hanging guy is called Percy.
Rachel Jones
Editor

The little girl in the frame is my god-daughter, and the pile of pipe cleaners and paper plates are left over from some kids' club craft at church, and are awaiting redeployment. The last book I finished outside of work was the novel "Gilead" by Marilynne Robinson, which is on the top shelf, and before that Michelle Obama's autobiography "Becoming", which I borrowed from a friend. They were two very different books but I liked them for the same reason: they transported me to a different time and place. Right now I've just started reading "The Cactus" by Sarah Haywood. It's narrated by an interesting but currently not-particlarly-likeable female protagonist, so I'm looking forward to seeing how it turns out.

Richard Roper
Senior Buyer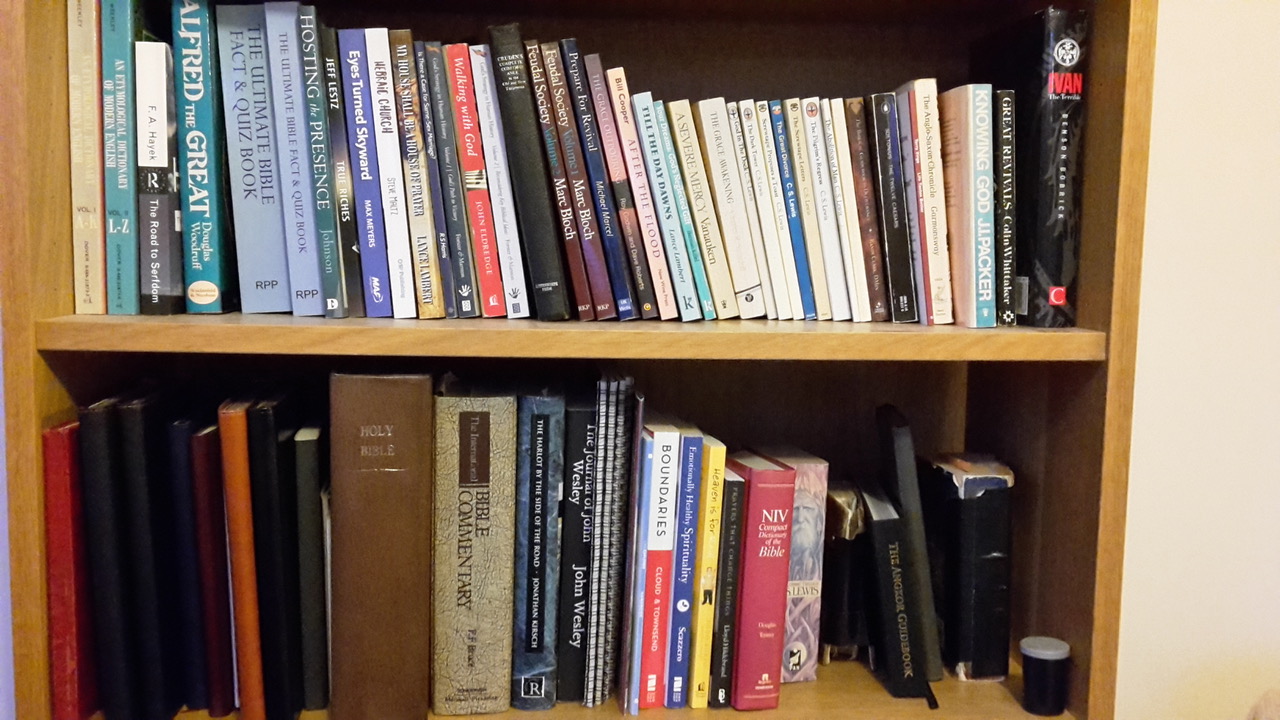 One paragraph in particular from Knowing God by Jim Packer made a huge difference to my life. I was going through a 'dark night experience' a few months after being baptised in the Holy Spirit (this was 1982 / 83) and it was bewildering. Jim Packer described what I was going through and said that unless you had experienced it yourself you probably wouldn't understand it. I read the paragraph and glanced up at a scripture bookmark I had stuck to my wall, 'Every day I will praise you' (Ps. 145:2). I said to the Lord, 'Even if you don't speak to me for the rest of my life, every day I will praise you.' It was the turning point to lift me out from the dark night/ arid desert I was in.
On the bottom shelf is a Holy Bible that was given to me by my great-great grandfather to his daughter, my great-grandmother.
Alison Mitchell
Senior Editor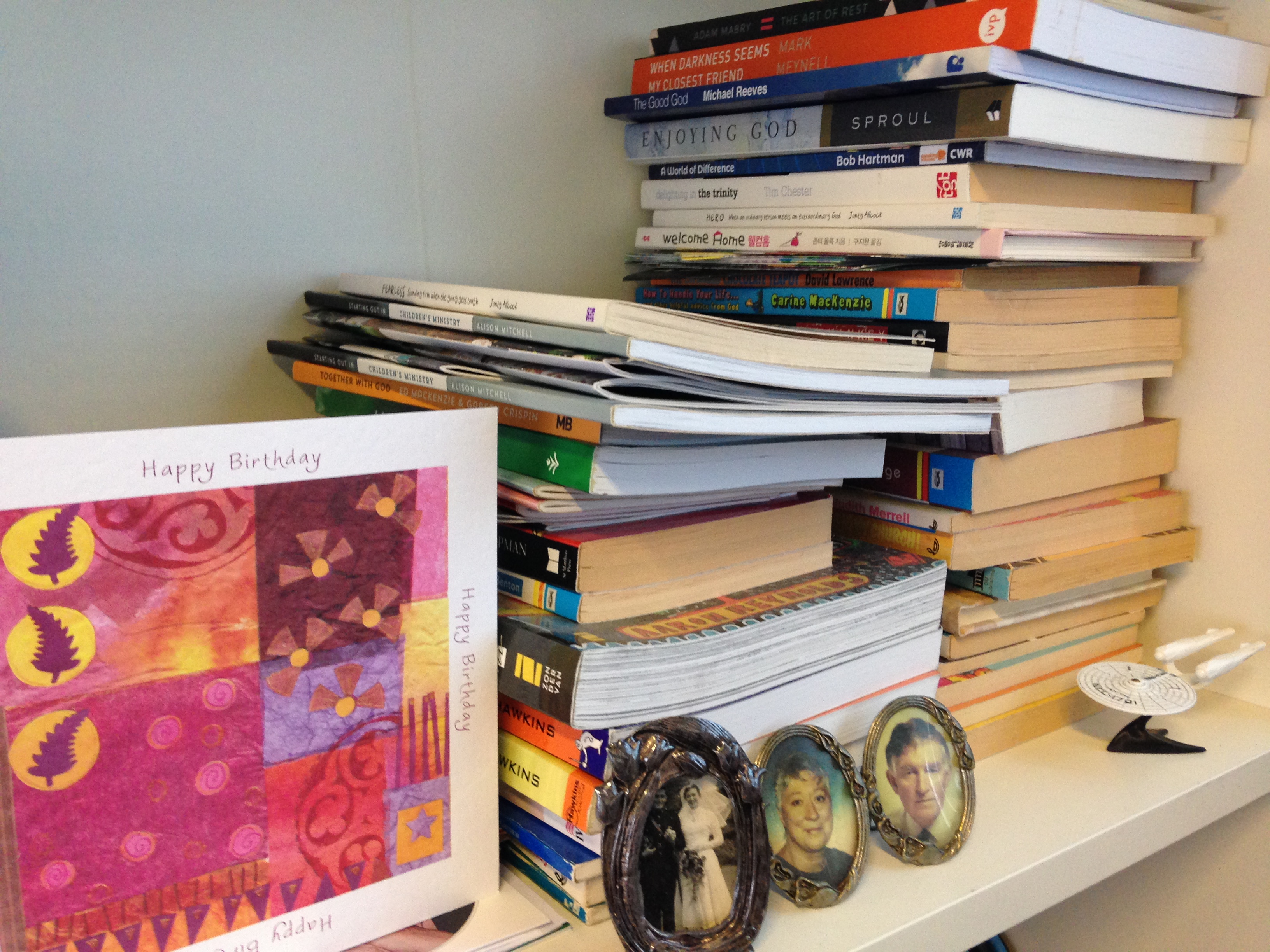 The most recent books I've read are on the top of the pile - The Art of Rest by Adam Mabry, When Darkness Seems my Closest Friend by Mark Meynell and The Good God by Mike Reeves. You can also see old photos of my parents, both of whom died in the last couple of years - and a model of the Starship Enterprise because I'm a Trekkie!
Lynne Dudley-Taylor
Customer Services Assistant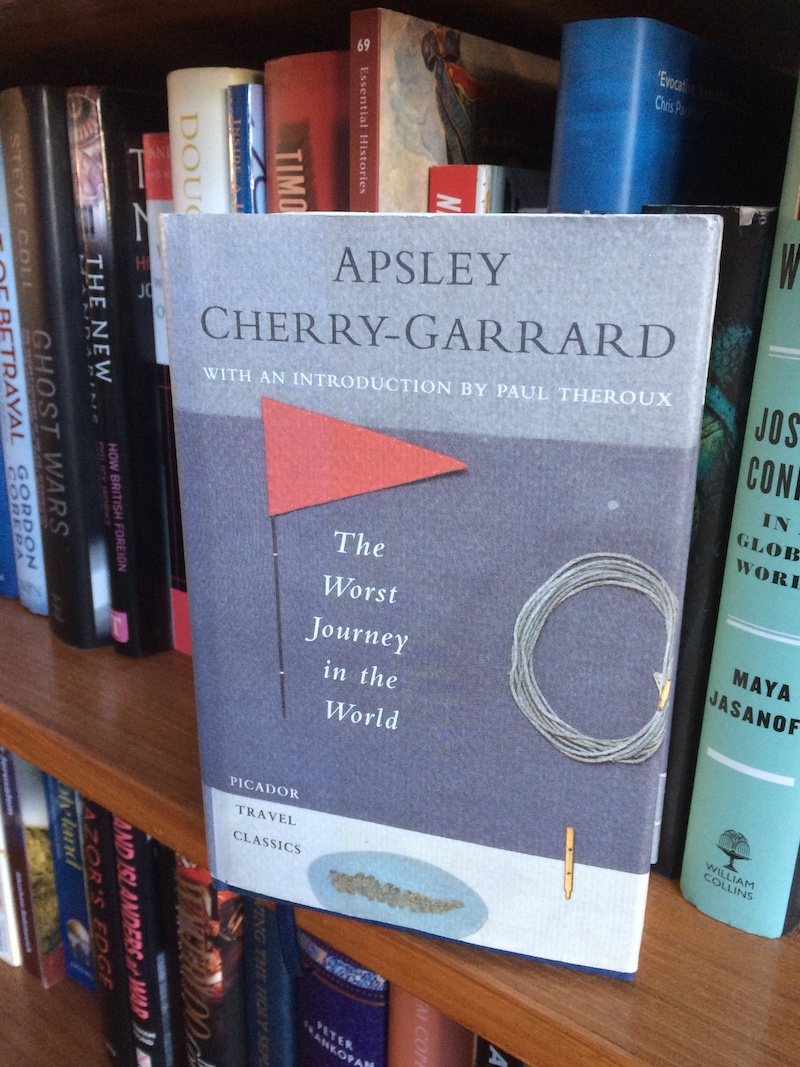 The most precious book belonging to my husband is The Strong Brown God, a book about the Niger river. It was given to him by his father shortly before he passed away over 20 years ago. He recently went to the Niger river and it meant a lot that he could immediately reference the book that means so much to him.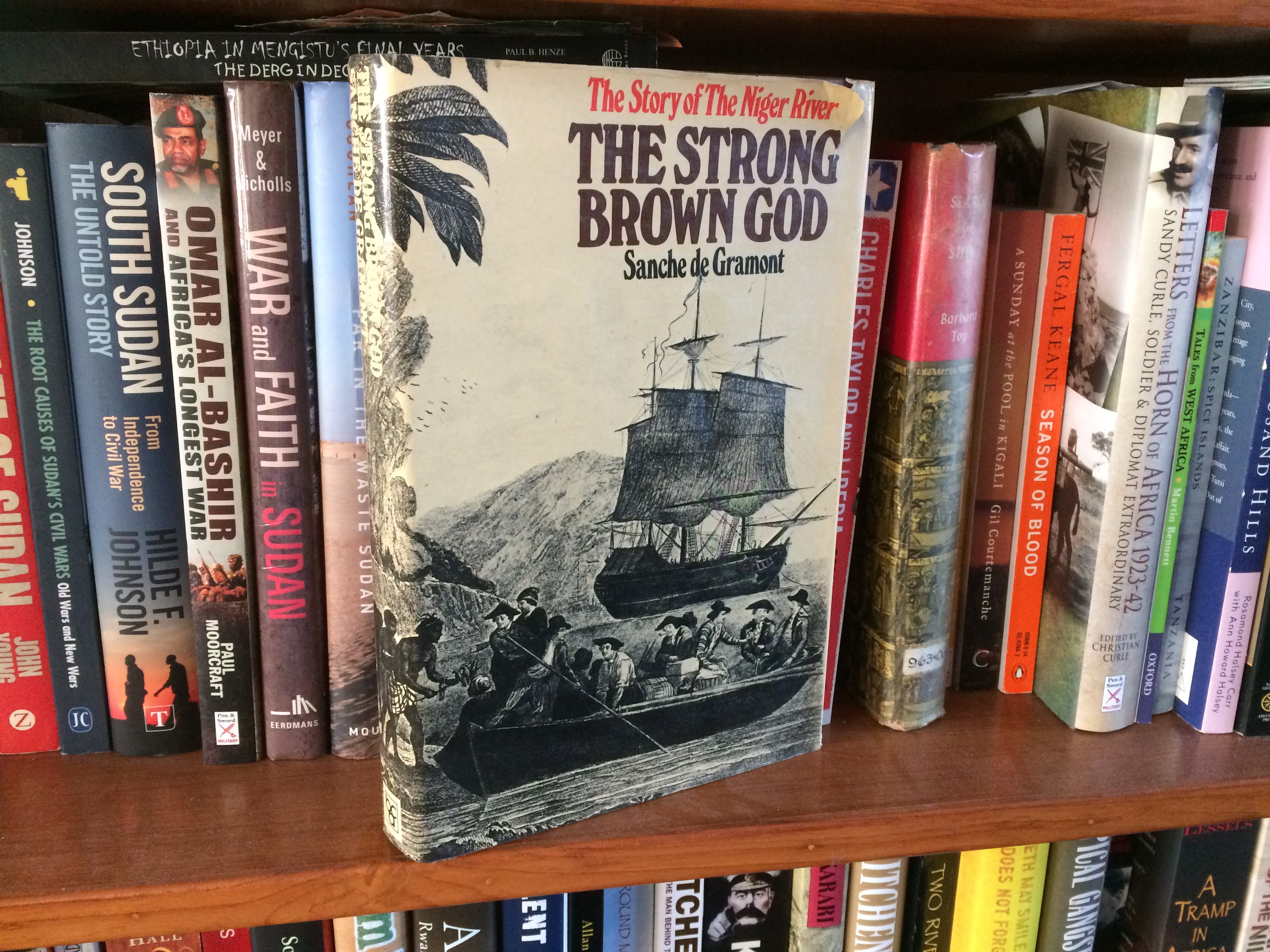 The Worst Journey in the World is a book written by one of the scientific officers on Captain Scott's ill fated race to the South Pole. Reading about the endeavours of these fantastically brave and courageous men, the ups and (inevitable) downs of their experience makes me both jealous (the Antarctic is high on my bucket list) and incredibly proud. The copy in the picture is my second because I read and re-read my first copy so much it fell apart! And now all I want to do is pick it up and start it again
Nelly Ortiz
Customer Services Manager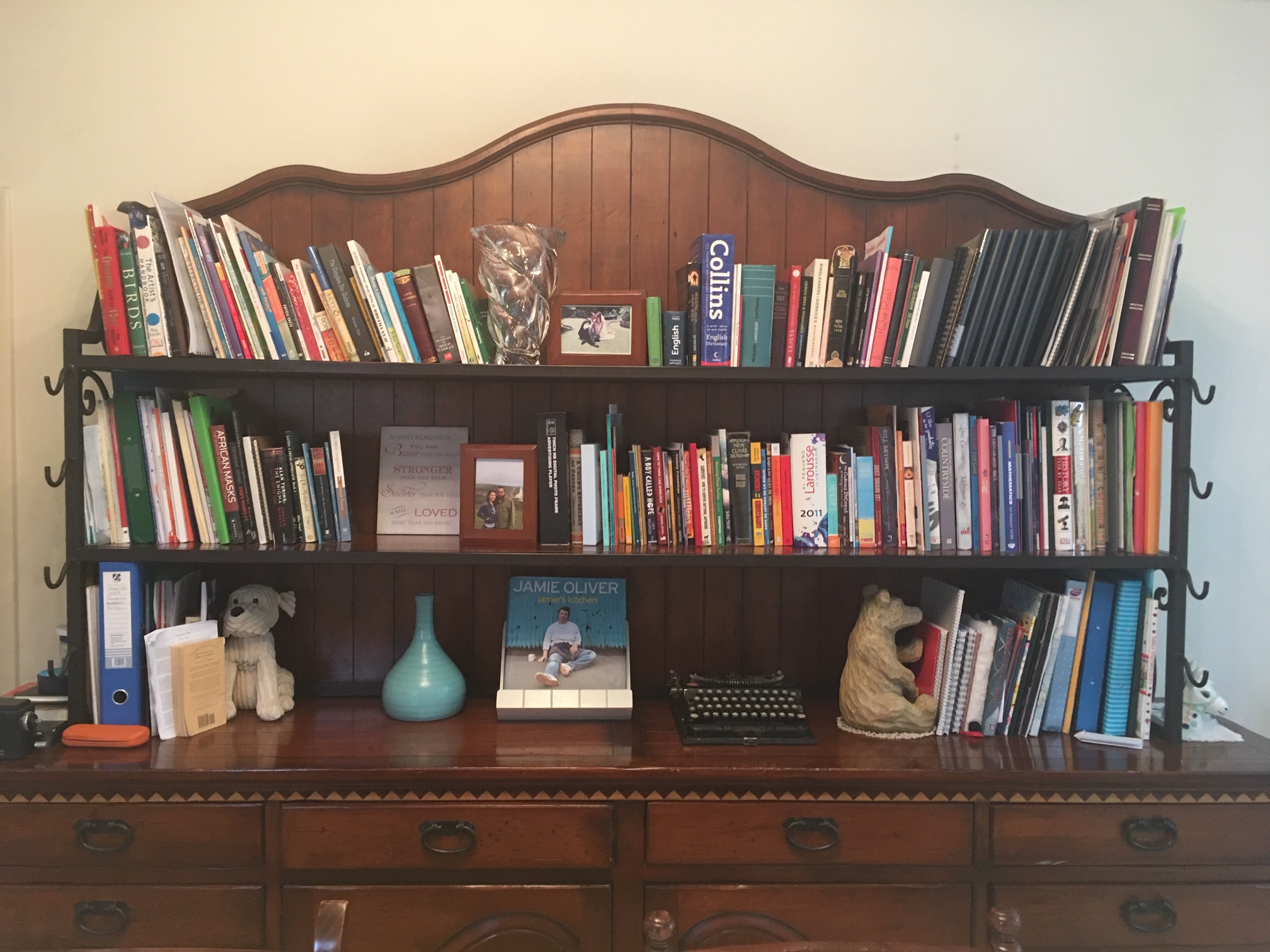 Three items I love: A wedding picture, an old Bible and an old typewriter. I learned proper typewriting skills on a very similar model back in Mexico. The old Bible was an anniversary gift to my husband.
Books we love: The Bible Speaks Today series, The Chronicles of Narnia, and our Jamie Oliver's recipe book
Sayuri Kato
Customer Service Assistant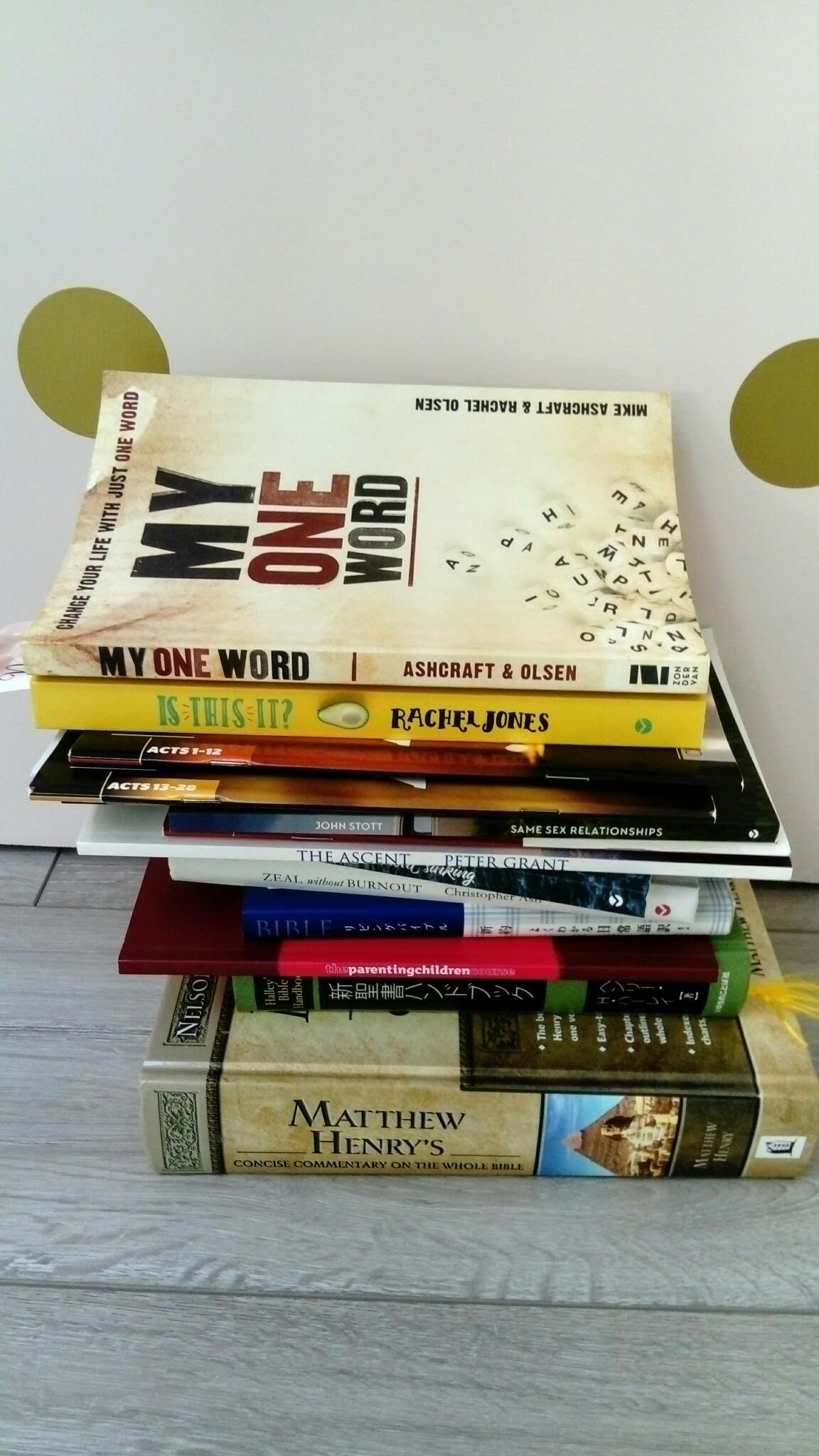 We have been doing My One Word as a church for few years and it did have a great impact on me through these last couple of years. The word given to me was "Gate" from John 10:9 "I am the gate; whoever enters through me will be saved. They will come in and go out, and find pasture." Focusing on just one word helped me enormously to rely more on God's strength and reminded to take rest in his presence regularly which was very much needed as I was going into a new ministry.
What about you? What do you have on your bookshelf? Take a picture and tag @thegoodbookusa