A Sneak Peek at Books to Come in 2021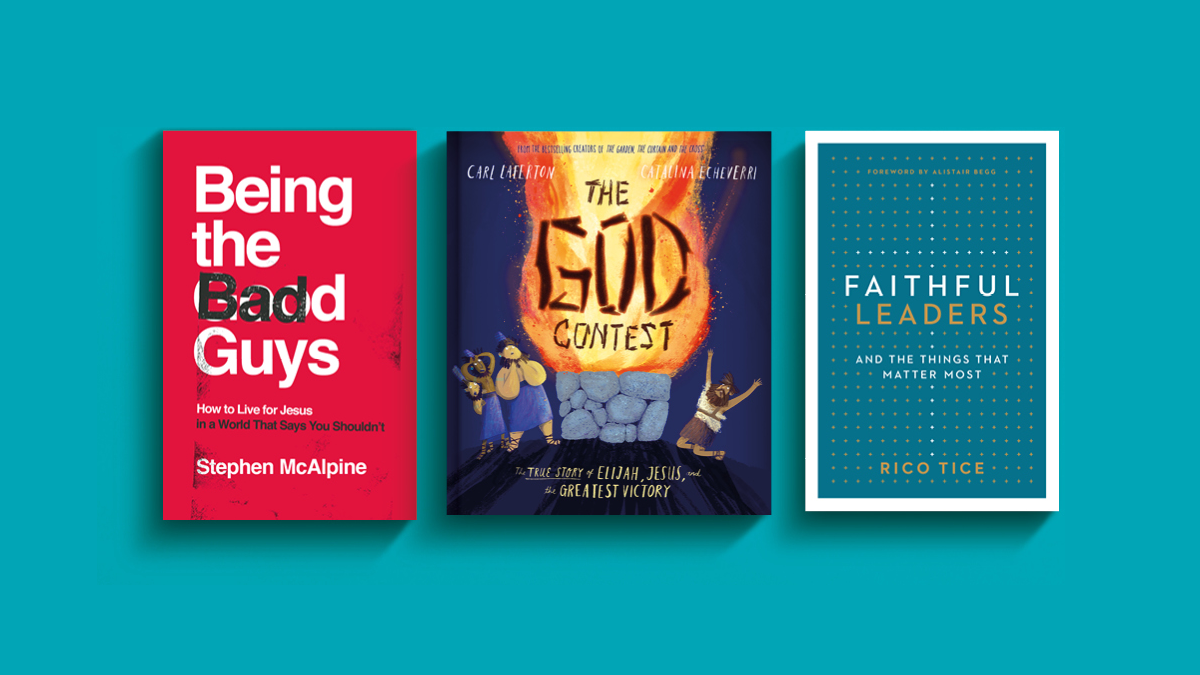 Get a sneak peek at some of the books we're excited to share with you in 2021. We made note of who we think each book will be especially meaningful to, reasons we love each one, as well as some bonuses we're thrilled to offer.
Topic: Author Stephen McAlpine offers an analysis of how our culture ended up seeing Christians as the bad guys and explains key points of tension between biblical Christianity and secular culture. He also offers strategies for coping in this world, with its opposing values, and for reaching out to others wisely with the truth.
Being the Bad Guys
$14.99
$12.74
How to live confidently for Jesus in today's world.
Recommended for:
Christians in secular workplaces, schools, or social circles

Outreach workers, evangelists
What we're especially excited about:
The many examples Stephen offers to bring words such as "post-Christian" and "authenticity" to life

Upcoming bonuses: The free application guide available for download and the option of a call with the author for those who buy more than 20 copies and want to discuss their specific ministry context
Available on: February 1st, 2021
Topic: In this short, punchy, challenging, and at times surprising book, Rico Tice draws on decades of experience in church leadership to call fellow pastors—and others with oversight of areas of church ministry—to define success biblically, fight their sin, lead themselves, and serve their churches.
Faithful Leaders
$12.99
$11.04
Explore the things that really matter for a successful ministry.
Recommended for:
Pastors and ministry workers

Seminary students

Christians in leadership positions
What we're especially excited about:
The emphasis on character and attitude instead of strategy

A reminder of what success means biblically
Available on: March 1st, 2021
Do Great Things for God Series
Topic: This is a new series of children's books. They are biographies of people who did great things for God and they encourage kids to bravely trust God too. The first two in the series tell the stories of Corrie ten Boom and Betsey Stockton.
Betsey Stockton
$12.99
$11.04
Inspiring children's biography of Betsey Stockton, who, despite being born enslaved, follows her dream of being a missionary.
Recommended for:
What we're especially excited about:
The beautiful storytelling and illustrations

Detailed timelines in the back encouraging kids to dig deeper into the stories
Available on: April 1st, 2021
The Big Questions Series
Topic: Sooner or later, young people have big questions about God, life, faith and the Bible, especially when their friends start asking them about what they believe. The first three books in this series include:
What Happens When We Die?
$12.99
$11.04
Apologetics for Christian kids and tweens on what happens when we die.
Recommended for:
What we're especially excited about:
Author Chris Morphew is a Christian studies teacher and chaplain who has been answering these types of questions for kids for over a decade.

This is pithy, fast-paced, and full of stories so it doesn't read like a textbook.
Available on: May 1st, 2021
Topic: In this realistic yet positive book, renowned Bible teacher Alistair Begg examines the first seven chapters of Daniel to show us how to live bravely, confidently, and obediently in an increasingly secular society.
Brave by Faith
$17.99
$15.29
Learn from the book of Daniel how to live confidently for Christ today.
Recommended for:
Every Christian

Small-group discussions
What we're especially excited about:
The clear, encouraging call to be confident in Daniel's God and the reminders of how powerful and faithful God is.

Upcoming bonuses: a free study guide to download and use for personal study or small-group discussion, as well as a playlist selected by Alistair Begg to inspire godly courage.
Available on: May 1st, 2021.
Topic: This warm, light-hearted, real, honest and at times surprising book gives a biblical perspective on menstruation, as well as a whole lot more. See how God's word speaks liberating and positive truth into all of life's experiences (even periods).
A Brief Theology of Periods (Yes, really)
$12.99
$11.04
What does the Bible say about periods?
Recommended for:
Women, starting with older teens

Women's book clubs or small-group discussions
What we're especially excited about:
The unique topic and perspective, rooted solidly in God's word

Rachel Jones' balanced, positive approach to tough questions, real problems, and womanhood throughout different seasons of life
Available on: May 1st, 2021
June and Beyond...
Keep an eye out for our other upcoming titles, such as Love Your Church by Tony Merida and Just Ask by J.D. Greear. We'll be releasing the next book in our Tales That Tell The Truth series this autumn: Any Time, Any Place, Any Prayer by Laura Wifler. A 365-day devotional by Alistair Begg will be available in time for Christmas. Check our Coming Soon page regularly for information about all of our upcoming books!
Are there any topics you would like to see our authors write about? Tell us in the comments below.