What Do I Do When I'm Perplexed?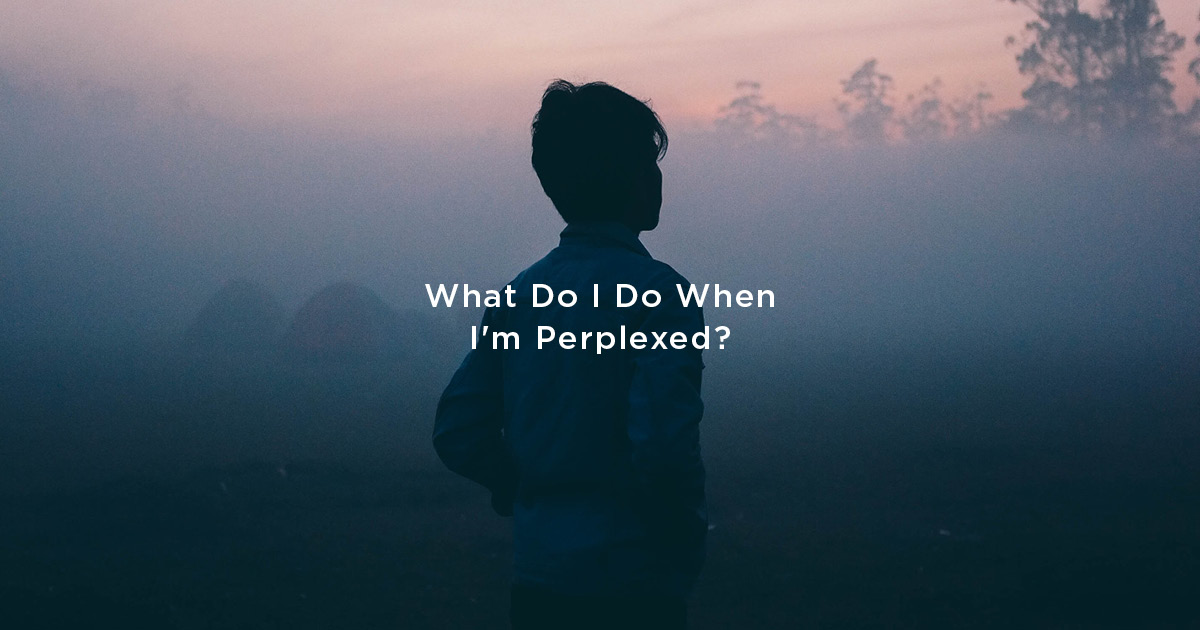 Is this really happening? When will this end? Where is God, and what's his purpose in all this?
When three of my children were diagnosed with a serious genetic condition, I'd wake up and wonder if it was all a dream. It only took a few seconds to realize the unthinkable, unbearable truth: our trial was real, and it wasn't going away any time soon.
Days turned into weeks, and each specialist appointment and medical test forced me to acknowledge our new normal. But even as the facts of our situation sunk in, I grappled with how to apply the gospel. I queried, Will Jesus be enough, even now? Even when I don't understand? Even when the future I mapped out has been upended? Even when I'm living in the middle of a story I wouldn't have written this way?
Maybe you find yourself in a similarly bewildering situation, one with no immediate end in sight. You don't see any easy answers to your honest questions. To some extent, we all find ourselves in this place. We go through the motions of relationships, church, health checkups, and employment with perplexities in tow. In a fallen world, misunderstandings and disappointments don't make them any easier to navigate.
We could spend all our limited time and energy chasing answers to our questions. It's certainly tempting to think that if we only caught them, we'd be satisfied. But what if God intended our questions to drive us to him—the satisfier of our souls—instead?
What If?
Even though I know better, I'll be the first to admit that functionally I often live as though my contentment were linked to my circumstances. Too often I swallow the lie that this restlessness in my soul, the one that's stirred by perplexity, would go away if only cloudy skies cleared, genes were repaired, or conundrums resolved. But as Augustine of Hippo wrote in his Confessions, "Thou has formed us for Thyself, and our hearts are restless till they find rest in Thee."
The Lord never promised to answer all our questions or solve our problems or change our circumstances in this life—not that we shouldn't or can't ask him to do some of those things. But consider the possibilities if we were to switch our focus.
Rather than begging God to remove our trials, as if that would "un-perplex us" (in addition to making our lives easier and more comfortable), what if we asked him to undo the crippling effect that perplexities can have on our inner selves? We would experience "the peace of God, which surpasses all understanding," guarding our hearts and minds in Christ Jesus (Phil. 4:7).
Instead of demanding answers, what if we humbly brought our questions to the Lord? If we were to "trust in him at all times" and pour out our hearts before him, we would discover that "God is a refuge for us" (Ps. 62:8).
What if we, like the apostle Paul, accepted suffering as a normal part of life for faithful believers while simultaneously asking God to set limits to our hardships? That we might be "afflicted in every way, but not crushed; perplexed, but not driven to despair; persecuted, but not forsaken; struck down, but not destroyed" (2 Cor. 4:8–9)? Our awareness of the Lord's goodness and grace to us in suffering, as well as the ways he uses trials to help us, would grow.
When we shift our attention away from how, when, and why and onto who (the Lord), we get to know God better. We may not see a way out of our circumstances, but we see our Lord's true character more clearly and are better positioned to trust his promises and purposes.
Nevertheless
In the Garden of Gethsemane, Jesus prayed, "Father, if you are willing, remove this cup from me" (Luke 22:42a), so it must not be wrong to ask God to change our circumstances. But do you remember how Jesus finished his prayer? "Nevertheless, not my will, but yours, be done" (Luke 22:42b).
It's only because Jesus drank the cup of God's wrath on behalf of sinners that we can experience his saving grace, made available through his obedient death and subsequent resurrection. It's only through faith in Jesus that we truly come to know him and that our eyes are opened to who he is, the hope we have in him, and his abundant grace toward us. It's only by God's grace that we too can say, "Not my will, but yours, be done." In our marriage (or singleness). In our infertility. In our parenting. In our employment. In our friendships. In our churches. In our joy. And in our suffering. Your will be done in all of it.
It's natural for our suffering to lead us to ask questions of God and even to ask him to take away our suffering, to bargain with him, and to make demands. It's the work of the Holy Spirit that enables us to offer our suffering to the Lord and pray instead, "Even if our trials never change, please use them to change us—to help us know, love, and trust you more. Lord, show us your true character, teach us to cling to your promises, and enable us to honor you in our afflictions."
Inviting God to bend our hearts to his will, even if our circumstances never change and some questions remain unanswered, is key to moving from despondency to hope. It's how we learn to live—abundant, God-glorifying lives—right in the middle of our stories (John 10:10). When we do, we find that Jesus is enough—and will always be enough—even on our hardest days.
In He Will Be Enough by Katie Faris, the themes of faith and feeling perplexed are explored further. This beautiful devotional offers you Biblical reflections to help you to have faith and to trust God in hard times.