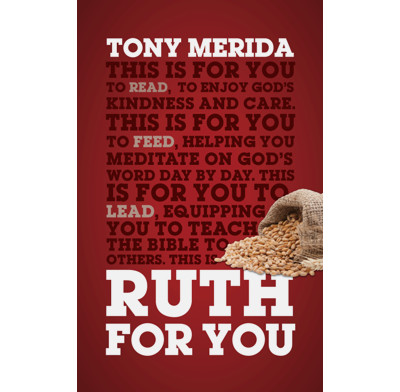 Ruth For You
ebook
Revealing God's Kindness and Care
Applied expository Bible-study guide on the book of Ruth: a story of redemption that points us to Jesus.
Part of the God's Word For You series.
The book of Ruth is a love story. Like all love stories it has twists and turns, tension and resolution, and a happy ending.
But it's far more than that because it reveals to us a God who is deeply committed to caring for his people. In Boaz, God provides Ruth with a loving husband to free and provide for her, pointing us to the Bible's grand story of redemption and David's greatest son, Jesus.
Tony Merida's compelling story-telling and Christ-centered insights make this both an accessible and absorbing expository guide to the book of Ruth. It can be used for personal devotions, or for leading small-group studies, or for sermon preparation.
There is an accompanying Good Book Guide available for studying Ruth in small groups.
Specification
| | |
| --- | --- |
| Contributors | Tony Merida |
| ISBN | 9781784983963 |
| Format | eBook |
| First published | October 2020 |
| Language | English |
| Publisher | The Good Book Company |
"I could not put it down"
Aaron Lee, November 2nd 2020
The story of Ruth is now a story that I want to revisit every advent season. It's a beautiful picture that points us to our beautiful Savior. This commentary has helped me make that connection. And it has helped me see more of Jesus.... continue reading
"Bible-centered, Christ-glorifying, relevantly applied, and easily readable."
Matt Cover, January 2nd 2021
Merida shows himself to be more than competent in rightly handling the Word of God. He is a pastor who peaches regularly and has written multiple commentaries, so he has certainly proven himself able to write for this series.... continue reading
"Ruth is not just a book for women!"
(Review written for 'Ruth For You')
As a female in the church, I am often pointed to the book of Ruth for encouragement and example of how to be a godly woman. Even though this is certainly a major takeaway of the book, Merida has done an outstanding job of pulling so much more out of this book making it applicable not just for females.

He presents an in-depth look at the historical setting and just what it meant for Boaz to be Ruth's redeemer and how Boaz sets an incredibly example for godly men, but moreover how the entire book paints an incredible picture of the gospel and what Christ has done for us.

This book is arranged in a way that it is to be used for personal devotions or for group conversational use. Each chapter ends with discussion questions that provoke deeper thinking and each section is short enough that it would be suitable for a wide range of groups.

I highly recommend this book not only to females looking to study an amazing example of being a godly woman but to men and women alike who want to know their Saviour more through the ways in which he has worked in the lives of those in the past so that they can appreciate all the more what He is doing for us now.