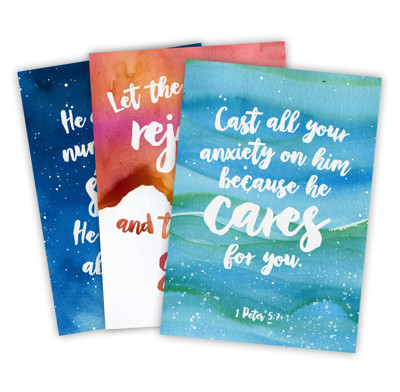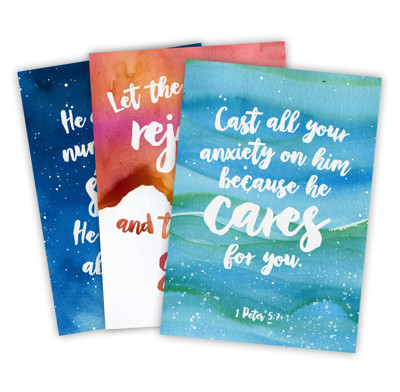 Scripture Postcards: Cast All Your Cares
Set of 6 Scripture Postcards (2 of each design)
A set of 6 scripture postcards to encourage others (2 of each design)
Let someone know you are thinking of them with these postcards declaring Biblical truths.
Based on original hand-painted water color designs, there are three different color schemes and this pack contains two of each. They are wonderful to display and will compliment any room.
These are the verses used:
Blue postcard: He counts the number of the stars. He calls them all by name. (Psalm 147:4)
Red postcard: Let the heavens rejoice and the earth be glad. (Psalm 96:11)
Turquoise postcard: Cast all your burdens on him because he cares for you. (1 Peter 5:7)
Specification
| | |
| --- | --- |
| ISBN | 9781784984243 |
| Format | Cards |
| Dimensions | 4.1" x 5.8" x 0.1" |
| Case quantity | 225 |
| Language | English |
| Pages | 6 |
| Publisher | The Good Book Company |
"Birthday card enclosures"
I love these postcards...I try to enclose some type of encouragement in greeting cards, as well as a written scripture. These are perfect and can also be used by the recipient if they so choose...(and if I don't write on them!:-) )
"Sharing Gods word"
I sell a lot on auction sites and when I post items to their new owners I always include a bible verse postcard. I have had many positive comments from buyers who have stated how the verse they have received has been an unexpected source of strength when they needed most.
"Inexpensive post cards"
I ordered the cards along with my books as they were so reasonably priced. The cards are sturdy. I probably wouldn't buy again as I prefer a plainer background to make the verse stand out but that's a very personal view
"Usefull"
These have been very usefull and attractive to see.
"Fantastic"
These are great value cards to have handy for whenever you need to send a word of encouragement. Great quality and good price. I expect I'll be buying more in the future.
"Excellent cards"
Lovely cards with encouraging messages and space for personal greetings. Bought more.
"Good resource"
A very helpful, straight forward way of reaching out and showing care, particularly during the pandemic when we cannot meet face to face and people are shielding.
"High quality, attractive postcards"
Bright colours, lovely design.
"Beautiful nuggets of scripture"
These cards are great quality and beautifully designed. I have lost of count of the number of christian and non-christian friends I have sent them to in recent months!
"Lovely thoughtful postcards"
Since I work for church it's always handy to have a verse to give to someone, whether it's a thought for a staff member, a church member or a stranger. The 6 cards (2 x each design) are pretty, with nice lettering and colours, I would recommend especially if only £0.99, and a wonderful touch at this time.