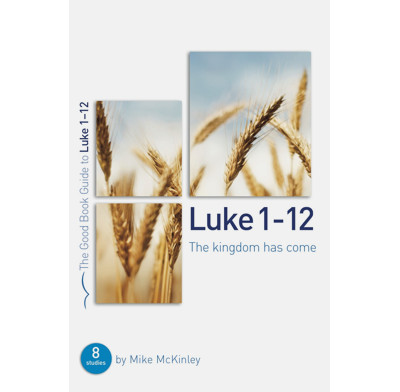 Luke 1-12: The kingdom has come
ebook
8 studies for individuals or groups
Eight studies bringing you face to face with the surprising, powerful, welcoming, joy-bringing Savior of the world.
Part of the Good Book Guides series.
Mike McKinley brings us face to face with Jesus in a way that is fresh and compelling for both experienced and new readers of the first twelve chapters of Luke's Gospel.
Features close attention to the text, a focus on real-life application and questions that really open up discussion. Plus a comprehensive guide for leaders in the back.
Contents
Introduction
Why study Luke?
1. Nothing is impossible - Luke 1 v 1 – 2 v 40
2. Walking in our shoes - Luke 2 v 41 – 4 v 13
3. Into the kingdom - Luke 4 v 14 – 5 v 39
4. How to be happy - Luke 6 v 1 – 7 v 50
5. Of soils and storms - Luke 8 v 1-56
6. Following the King - Luke 9 v 1-62
7. You know the kingdom has come - Luke 10 v 1 – 11 v 36
8. Freed from worry - Luke 11 v 37 – 12 v 34
Leader's Guide
Specification
| | |
| --- | --- |
| Contributors | Mike McKinley |
| Format | Digital (delivered electronically) - PDF |
| Case quantity | 50 |
| Language | English |
| No. of studies | 8 |
| Publisher | The Good Book Company |