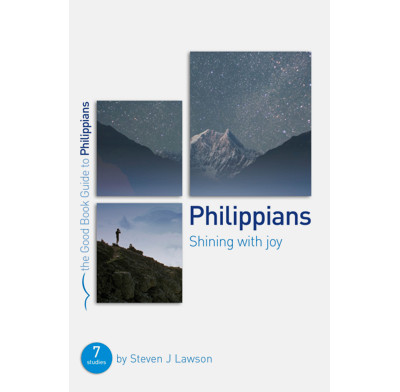 Philippians: Shining with joy
ebook
7 studies for individuals or groups
Discover how to live with hope, joy and confidence—whatever circumstances life brings.
Part of the Good Book Guides series.
If you would like to be more joyful, and for your church to be more joyful, these seven studies in the book of Philippians will show you how to live with hope no matter what your circumstances. Written from a prison cell by a man with an uncertain immediate future, Philippians is a torrent of joy, with its source in the wonderful gospel. Study Philippians to discover how to shine with joy.
Accompanying expository guide available to help you lead small groups.
Contents
Why study Philippians?
1. Finishing what he started (1 v 1-11)
2. To live is Christ, to die is gain (1 v 12-30)
3. A high call to a humble life (2 v 1-11, 19-30)
4. Sanctification 101 (2 v 12-18)
5. The new confidence of a new citizenship (3 v 1-21)
6. Pursuing peace (4 v 1-9)
7. Living above the circumstances (4 v 10-23)
Leader's Guide
Specification
| | |
| --- | --- |
| Contributors | Steven Lawson |
| Format | Digital (delivered electronically) - PDF |
| Case quantity | 50 |
| Language | English |
| No. of studies | 7 |
| Publisher | The Good Book Company |
"Good resource"
I used this book as a help with the preparation of questions for one to one bible study with member of our youth group - overall it was really good and helpful (part for leaders is in the back of the book with help for answering), I appreciate emphasis on application in our lives.