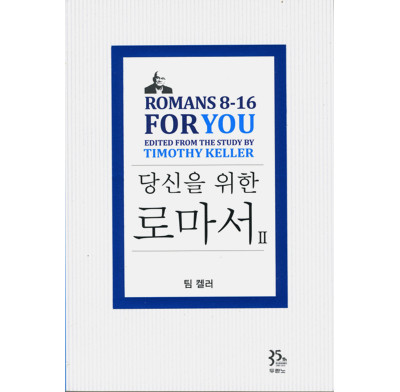 Romans 8-16 For You (Korean)
For reading, for feeding, for leading
Timothy Keller's expository Bible-study guide to the second half of Romans will excite Christians in their faith and equip teachers and preachers in their work.
Part of the God's Word For You series.
Join Dr Timothy Keller as he opens up the second half of the book of Romans in this applied commentary.
"I have always believed that at the heart of Romans 8 you have the secret to really using the gospel in your heart to change yourself in a profound way." Tim Keller
This uniquely flexible curriculum, edited from the study by Timothy Keller takes you through Romans chapters 8-16, helping you to get to grips with its meaning and to see how it transforms hearts and lives today.
Combining close attention to the text with Timothy Keller's trademark gift for clear explanation and compelling insights, this is a uniquely flexible resource. It can simply be read as a book; used as a daily devotional, complete with reflection questions; or utilized by anyone who has a teaching ministry, to help small-group leaders understand and apply the text, and to give preachers helpful ways of connecting timeless Bible truths to today's world.
Written for people of every age and stage, from new believers to pastors and teachers.
There is an accompanying Good Book Guide available containing Bible studies for small groups.
Timothy Keller is the founding pastor of Redeemer Presbyterian Church in New York City, Chairman of Redeemer City to City and best-selling author.
Contents
Series preface
Introduction to to Romans 8–16
1. Fighting Sin with the Spirit 8:1-13
2. Living as Children of God 8:14-25
3. Facing Life with Confidence 8:26-39
4. God's Sovereignty 9:1-29
5. Our Responsibility 9:30–10:21
6. God and Israel 11:1-36
New Relationships…
7. …To God and the Church 12:1-8
8. …To Friend and Enemy 12:9-21
9. …As Citizens of the State 13:1-14
10. …Between the Weak and the Strong 14:1-23
11. Unity and Mission 15:1-33
12. To God be the Glory 16:1-27
Glossary
Appendices
Bibliography
Specification
| | |
| --- | --- |
| Contributors | Timothy Keller |
| ISBN | 9788953121904 |
| Format | Paperback |
| Dimensions | 5.1" x 7.4" x 1" |
| Language | Korean |
| Pages | 224 |
| Publisher | Duranno Press |
Also available in
"Awesome Resource"
(Review written for 'Romans 8 - 16 For You')
Tim Keller is a fantastic scholar, preacher and author. Love his exegetical approach to Scripture and found his teaching on Romans very helpful.
"excellent"
(Review written for 'Romans 8 - 16 For You (ebook)')
An excellent study of some very vital but complex scriptures. I thouroughly recommend this book.
"Excellent!"
(Review written for 'Romans 8 - 16 For You')
So clear and accessible. Couldn't put it down!
"Romans for You."
(Review written for 'Romans 8 - 16 For You')
Excellent study on Romans, really helped me understand the importance of the gospel. Very well written and easy to understand complex issues of scripture.
"Outstanding"
(Review written for 'Romans 8 - 16 For You')
We're using this in our home group and it's very helpful in understanding Romans. It provides a good background, easy to understand comments, and excellent discussion questions. We're also using it with the "Good Book Guide to Romans", also by Timothy Keller, that serves as a companion for the more detailed "Romans for You".
"Amazing!"
(Review written for 'Romans 8 - 16 For You')
Romans is really the outline of the Gospel. But it can be a little hard to access at first. Tim Keller breaks Paul's letter to the Romans down in a way that is accessible to everyone from brand new Christians to Professors of Theology. I will be recommending it to my Bible Study for this fall.
"A must read"
(Review written for 'Romans 8 - 16 For You')
I've been a Christian a long time, but these books were completely mind blowing. Paul goes through so many basic parts of Christianity that it can be easy to forget. Tim Keller puts it in a really simple explanation, even when dealing with tricky biblical doctrines. A must read for young and old Christians!