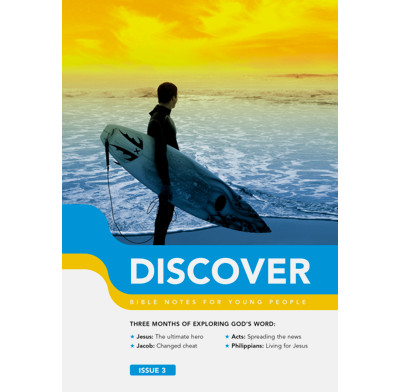 Discover: Book 3
Bible notes for young people
Book 3 of a three-year collection of Bible notes for young people
Part of the Discover series.
Discover Bible notes have been helping young people understand and apply the Bible for over a decade. Now, we're turning these popular devotions into a collection of 12 books that covers the major Bible books, events and characters.
Discover encourages a daily routine of Bible study and prayer, which will help young people set a pattern for the rest of their lives.
Specification
| | |
| --- | --- |
| Age range: | 11 - 13 |
| Contributors | Martin Cole |
| ISBN | 9781784980559 |
| Format | Paperback |
| First published | May 2016 |
| Dimensions | 5.8" x 8.3" x 0.4" |
| Case quantity | 60 |
| Language | English |
| Pages | 96 |
| Publisher | The Good Book Company |
"Great for independent reading of the Bible"
(Review written for 'Discover - 1 year subscription')
My 9 year old really loves this. He enjoyed XTB but felt he was a bit old for it and was really keen to do something similar. He likes that he can do it independently (we look through it together afterwards), enjoys the code words and other fun things. I think it is great the notes explain the more difficult words in the passages. He's so keen to do his study each night. Thank you Good Book Company!
"Really encouraged"
(Review written for 'Discover - 1 year subscription')
I am really encouraged that something like this exist for this age group. It's something my daughter really engages with.
"Positive"
Quick response to order. Books for Pathfinder youngsters who had asked for them having had nos 1 and 2 so clearly well received.
"Good initial response"
I bought this booklet of Bible Reading Notes for my 12 year old granddaughter who had tried many types and enjoyed them, but was looking for some thing fresh. Initial reaction was welcoming and positive, but I hvae not heard from her recently.
"Buy them!"
(Review written for 'Discover - 1 year subscription')
Excellent Bible "studies" for youngsters. My grandsons enjoy reading them and are learning good clear , engaging Bible teaching at the same time.win win!