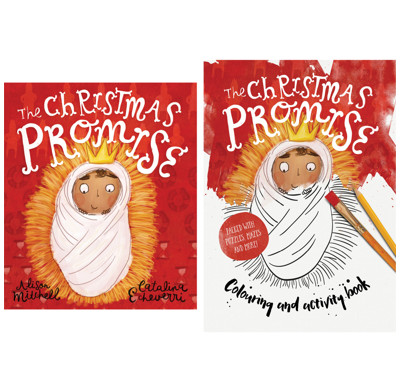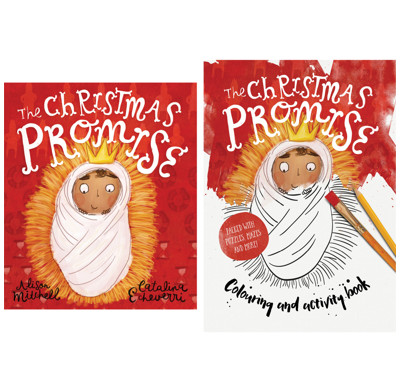 The Christmas Promise Storybook and Coloring Book Bundle
Get a great deal when you buy The Christmas Promise Storybook together with the coloring and activity book.
Part of the Tales that Tell the Truth series.
This hardback storybook is a captivating retelling of the Christmas story for kids ages 3+, showing how God kept his promise to send a new King, a rescuing King, a forever King!
Superb illustrations by Catalina Echeverri and faithful, Bible-centered story-telling by Alison Mitchell combine to make this a book that both parents and children will love.
The coloring and activity book, designed for 5+ year old kids, features 32 pages of coloring sheets based on the storybook. As kids color, they'll be reminded of the message of the book.
Other products in The Christmas Promise range include:
A Board book for 1-3s
An Advent Calendar for kids 5-11, including a 32-page book of family devotions
A three-session Sunday School resource with age-differentiated lesson plans for 3-5s, 5-8s, and 8-12s
Full-size Illustrations to use when reading The Christmas Promise aloud, which is a great idea during a Christmas service at church"
Specification
| | |
| --- | --- |
| Age range: | 3 - 6 |
| Contributors | Alison Mitchell, Catalina Echeverri |
| Format | Multiple-component retail product, loose |
| Language | English |
| Publisher | The Good Book Company |
"Excellent & Gospel Christ centered"
This is an excellent tool to teach children the Christmas story of Christ the King coming to save sinners. We gave this out to all the children at our church. It is fun, interactive and God exalting. Thank you!
"Excellent resource"
This is an excellent resource for children to learn the Christmas story through a colouring book. There is a good range of activities throughout the book so it is suitable for a range of ages.
"Wonderful book to explain Christmas"
We have loved this book so much we've started gifting it to others. It's a great retelling of the Christmas story and explains why Jesus is the Promise that Christmas really is about.
"Good gift"
(Review written for 'The Christmas Promise Giant Colouring Poster')
My 6-year-old grand daughter enjoyed this - but we will have to finish it next Christmas!
"Prefer colourful and clearer pictures"
I do not want to be too critical... To be truthful, I personally prefer clearer pictures. I had nothing against the puzzles,mazes, word searches etc but I fet there was nothing that STOOD OUT to me. Perhaps if I had bought the story book it might have been different. In actual fact I used some other material I had already for that. The colouring poster was good and well received by the children. Sorry.
"great colouring activity"
(Review written for 'The Christmas Promise Giant Colouring Poster')
We used this poster as a colouring activity at our mid week clubs, and children and adults alike enjoyed choosing a bit to colour and working together at it. The large size meant at least 4-6 people could work on this at the same time. The words provided a helpful talking point - what does Forever King and Rescuing King mean etc? It looks nice displayed on the wall too!
"Enjoyable and Engaging"
I bought this book for my 3 year old as we looked forward to Christmas. She really enjoyed listening to the story and re-telling it. I enjoyed reading it to her as it was a slightly different perspective to the 'normal' children's story of the nativity. The illustrations are colourful and add to the story.
"Fun Christmas poster"
(Review written for 'The Christmas Promise Giant Colouring Poster')
My children have had a lot of fun colouring in this poster- it has taken up several hours and reminded them of who Jesus is and His birth at Christmas.
"good variety and pleanty of Nativity images to draw and discuss."
I gave 2 of these books to my grandchildren before Christmas as an advent gift. They are 5 and 7 and immediately got involved in the drawing and puzzles. There is a good variety of activities and the pictures give plenty of opportunities for talking about Jesus
"Excellent writing and gorgeous illustrations"
(Review written for 'The Christmas Promise (Paperback)')
I love the illustrations in this book which make it feel very special. I think this would be a gentle introduction to the Christmas story for a non-Christian, whilst also being quite different from most other nativity books (the focus being on who Jesus is instead of the usual "no place at the inn"). I love the way it picks up themes from the Old Testament - so there's lots in here for a Christian to pick up on and point out to their children. I would say it's a great book to give as a gift to anyone with children aged about 3-8.