Wherever You Go, I Want You to Know
Tells children that whatever they do and wherever they go, your greatest aspiration is that they will love and follow Jesus.
Kids love to dream about what they might do when they grow up: jobs they might have, places they might go, people they might meet. And parents and caregivers love to encourage and support them.
But for Christian parents, their greatest aspiration for their children, their dream of all dreams, is that whatever their kids do and wherever they go, they will love and follow Jesus.
As children embark on life's journey with all their potential and aspirations, express to them your biggest dream with this beautiful illustrated rhyming children's book.
As well as teaching children about the only thing that really matters in life, this book also reminds parents that telling their kids about Jesus is more important than anything else.
Makes a wonderful gift for a wide range of children—from 3 year olds to 8 year olds and even beyond—for birthdays, Christmas or graduation.
Written by Melissa Kruger: mother, bestselling author (including Five Things to Pray for your Kids), speaker, blogger, and Director of Women's Content at The Gospel Coalition.
Join us in sharing the #Whereverdream You'll find a photo contest, media kit, and access to free printables.
Extras
Specification
| | |
| --- | --- |
| Age range: | 3 - 6 |
| Author | Melissa B Kruger, Isobel Lundie |
| ISBN | 9781784985356 |
| Format | Hardback |
| First published | August 2020 |
| Dimensions | 6.5" x 8.9" x 0.4" |
| Case quantity | 18 |
| Language | English |
| Pages | 24 |
| Publisher | The Good Book Company |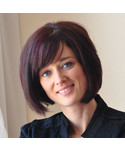 This will become an all-time favorite read-aloud! What every parent wants to say— and what every child wants to hear. There's nothing you want your child to know more than what this charming book sings in lyrical, romping lines—lines that will tie your heart to your child's and wrap you both up in the love of God and the supremest dream we all have to know. My daughter and I were so smitten with it that we read it twice right away!
What a fantastic book! The flowing poetry and vibrant artwork allow every Christian parent to tell their child what we find hard to say, but wish we could. It cuts to my heart and reminds me of the supreme value of following Christ. May many families be greatly blessed by regularly reading this book.
I wish I had this book when my kids were little! It is simple. No matter what our kids dream, we want them to love Jesus and walk with him all their lives. You'll love reading this book as a family!