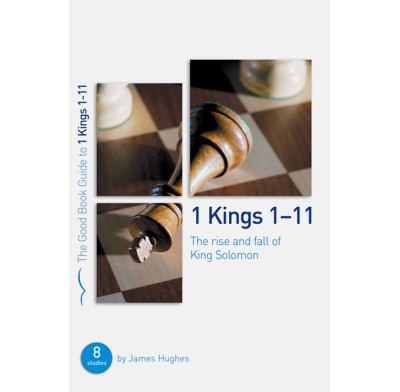 1 Kings 1-11: The rise and fall of King Solomon
ebook
8 studies for individuals or groups
Look forward to King Jesus' perfect rule and kingdom as you look back at the rise of King Solomon—and his fall.
Part of the Good Book Guides series.
He was a king who rose to dizzying heights. An empire… renowned wisdom… breathtaking buildings… incredible wealth… Solomon had it all. And under him, God's chosen people Israel enjoyed a golden age.
But he was also a king who fell ruinously. His reputation became tarnished… his kingdom was divided… his achievements did not last. Solomon's life and rule are a fascinating study of wealth and power—and their corrupting influence.
But his rule is not primarily a morality tale. Solomon's reign, and the blessings God's people enjoyed under him, point us to a greater king, who will never fall. The king and his kingdom turn out to be just a shadow of the reality that is to come in Christ. Its rise shows us how wonderful it is when God's people live in God's land under God's king. Its fall reminds us that the best is yet to come.
The eight studies in this Good Book Guide will help ordinary Christians get to grips with the first eleven chapters of 1 Kings. They will encourage and challenge you as you seek to live as God's people today. And they will excite you as you look forward to the eternal glory of living under great Solomon's greater Son—Jesus Christ.
Contents
Introduction
Why study 1 Kings?
Timeline

1. Solomon the king - 1 Kings 1
2. Solomon's rule - 1 Kings 1 – 2
3. Solomon's wisdom - 1 Kings 3
4. Solomon's wealth - 1 Kings 4 – 5
5. Solomon's buildings - 1 Kings 6 – 7
6. Solomon's prayer - 1 Kings 8
7. Solomon and the queen - 1 Kings 9 – 10
8. Solomon's fall - 1 Kings 11

Leader's Guide
Specification
| | |
| --- | --- |
| Contributors | James Hughes |
| Format | Digital (delivered electronically) - PDF |
| Case quantity | 50 |
| Language | English |
| No. of studies | 8 |
| Publisher | The Good Book Company |
Other information
The Good Book Guides have been developed to ensure that each session not only seeks to uncover the meaning of the passage and see how it fits into the big picture of the Bible, but also leads people to apply what they have learned to their lives. Flexible and practical, the Good Book Guides are ideal for small groups, or individual study.
"The format is very user-friendly and the content is rich and accessible."
- Justin Taylor, Gospel Coalition blogger and Vice-President of Editorial, Crossway
"God-centered, application-oriented, and driven by the text throughout, this resource is a gift to God's church."
- Matt Smethurst, Gospel Coalition reviewer and Master of Divinity student at The Southern Baptist Theological Seminary
Here at Covenant Life Church, we have greatly benefitted from the small group resources from The Good Book Company. Many small groups in our family life ministry have used "Colossians: Confident Christianity" in their study of scripture. Additionally, our youth ministry has used "Romans 1-5: God and You" in their small groups. Both resources were very easy to use, helped the reader engage directly with the scriptures, and had a wonderful pastoral emphasis demonstrated in all the questions.
- Dave Brewer, Youth Pastor at Covenant Life Church, Maryland