Dr Amy Orr-Ewing is an international author, speaker and theologian who addresses the deep questions of our day with meaningful answers found in the Christian Faith. Amy holds a doctorate in Theology from the University of Oxford. Amy is the co-founder of REBOOT, an innovative youth initiative aimed at helping teenagers think deeply about faith, which now runs in countries all over the world. She lives in Oxford with her husband 'Frog'. They have three boys, JJ, Zach and Benji.
www.amyorr-ewing.com
Resources by Amy Orr-Ewing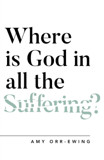 Where Is God in All the Suffering?