Christopher de la Hoyde grew up in Yorkshire and became a Christian while at university in Cambridge. He and his wife are part of Acts 29 Europe and lead Grace Church in Boroughbridge, North Yorkshire. Their long-term dream is to be involved in making Jesus known in France. They have four children, and love eating, walking, reading and chatting.
Resources by Christopher de la Hoyde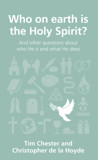 Who on earth is the Holy Spirit?