Starting out as a professional singer-songwriter, John Dickson now works as a writer, speaker, historian, and media presenter. He is the author of more than a dozen books, and the presenter of three TV documentaries on the origins of Christianity. He teaches Historical Jesus at the University of Sydney, and is the Distinguished Fellow and Senior Lecturer in Public Christianity at Ridley College, Melbourne. He produces a weekly podcast called Undeceptions. During 2017-2019 he was a Visiting Academic in the Faculty of Classics at Oxford University researching the use of memory techniques in ancient education. In all that he does, whether in the media or the church, creative or academic, he strives to be a public advocate for the Christian faith in sceptical times. Having lost his father in a major air disaster when he was young, John has always felt an affinity with the deeper questions and doubts of our world. He lives in Sydney, and values his wife and three children above all other gifts of this life.
johndickson.org
@johnpauldickson
https://www.facebook.com/john.dickson.9406417
Resources by John Dickson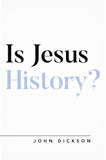 Is Jesus History?