John Stevens lectured in law at the University of Birmingham before entering full time ministry. He is the National Director of the Fellowship of Independent Evangelical Churches in the UK, and co-pastor of a church plant in Market Harborough. John is married to Ursula and they have four children.
http://www.john-stevens.com/
_JohnStevens
Resources by John Stevens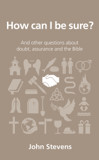 How can I be sure?