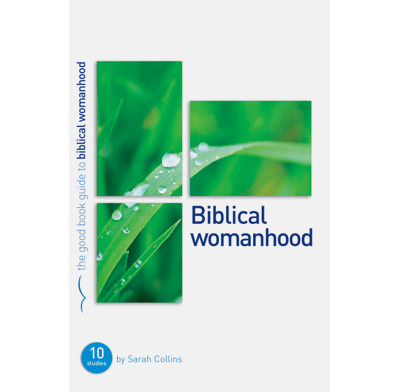 Biblical Womanhood
ebook
Ten studies for individuals or groups
Suitable for groups or individuals, this guide covers all the major Bible teaching specific to women.
Part of the Good Book Guides series.
Everywhere women face choices — home or career, money or relationships, 'secure' marriage or 'free' singleness, using your looks to get on or ignoring your looks and getting ignored, competing with the boys or retreating into the sisterhood ghetto, the 'progress' of feminism or the 'nostalgia' of motherhood and apple-pie, women bishops or tea-ladies and baby-sitters?
Our culture has plenty to say on all these issues. But a Christian woman, seeking to live for her Lord, will first of all want to find out God's design, purposes and promises for women.
And here's the book to help. Sarah Collins (nee Young), in this set of nine Bible studies, aims to answer questions such as:
- What does the Bible say about the 'big issues' facing women today?
- How should this affect my own life?
- How can I be helped to live like this in a society with a very different agenda?
Some things will be controversial in our culture, even in some of our churches. This course doesn't set out to be politically correct but faithful to Scripture.
Suitable for groups or individuals, this guide covers all the major Bible teaching specific to women. Set within the big picture of God's redemption of sinners through Jesus Christ, the heart-felt aim is that 21st century women will be enabled to live obediently and joyfully for Christ, as women after his own heart.
This edition has been revised and updated with a new study—women and their children.
Contents
Introduction

1. Foundations
2. Women and the Fall
3. Women and marriage
4. Women and singleness
5. Women and beauty
6. Women and the family of God
7. Women and their sisters
8. Women and their brothers
9. Women and their children
10. Women and their Lord

Suggested Reading
Leaders' notes
Specification
| | |
| --- | --- |
| Contributors | Sarah Collins |
| Format | Digital (delivered electronically) - PDF |
| Case quantity | 50 |
| Language | English |
| No. of studies | 10 |
| Publisher | The Good Book Company |
Other information
The Good Book Guides have been developed to ensure that each session not only seeks to uncover the meaning of the passage and see how it fits into the big picture of the Bible, but also leads people to apply what they have learned to their lives. Flexible and practical, the Good Book Guides are ideal for small groups, or individual study.
"The format is very user-friendly and the content is rich and accessible."
- Justin Taylor, Gospel Coalition blogger and Vice-President of Editorial, Crossway
"God-centered, application-oriented, and driven by the text throughout, this resource is a gift to God's church."
- Matt Smethurst, Gospel Coalition reviewer and Master of Divinity student at The Southern Baptist Theological Seminary
Here at Covenant Life Church, we have greatly benefitted from the small group resources from The Good Book Company. Many small groups in our family life ministry have used "Colossians: Confident Christianity" in their study of scripture. Additionally, our youth ministry has used "Romans 1-5: God and You" in their small groups. Both resources were very easy to use, helped the reader engage directly with the scriptures, and had a wonderful pastoral emphasis demonstrated in all the questions.
- Dave Brewer, Youth Pastor at Covenant Life Church, Maryland