Family life is often very busy! There are so many things competing for time and attention. Kids are also influenced by many different things. How can we make sure that we are making the most of our time with our children to lead them spiritually? And what is the best approach? 
This practical guide gives parents a systematic approach to discipleship that goes beyond rote memorization. Author Chris Swain applies to the family context the principles of discipleship that Jesus teaches in Scripture to help you make the most of the time you have with your kids, to both lead them to Jesus and to encourage them to be like Jesus.
"Discipleship happens when we spend intentional time with our children. It is in these moments that God writes his word on their hearts. He does the writing, but we help create the atmosphere for this to take place." (From the introduction to Write It On Their Hearts.)
Write It On Their Hearts features: 
• a model of discipleship developed by Replicate Ministries that is based on Jesus' encounters with his disciples 
• a discipleship plan that you can tailor to each child 
• practical help and advice for Christian parents on how to disciple their kids
Author Chris Swain served most recently at Long Hollow Church in Hendersonville, Tennessee, as Disciple-Making Pastor and CEO of Replicate Ministries, training the local church to make disciples. Chris served in full-time ministry for over two decades after proudly serving in the United States Marine Corps. Chris passed away in 2021, but the words he leaves here reflect his devotion to his family and to making disciples.
Co-author Melissa Swain spent nearly 23 years as a pastor's wife and is a mom, homeschool teacher, writer, and editor. Chris and Melissa lived all over the South, serving in various ministries, but she now calls Hendersonville, Tennessee home, along with her two children and the family dogs.
The list of endorsements at the front of this book contains endorsements from Johnny Hunt and Ronnie Floyd, both of whom are subjects of the recent Guideposts report into sexual abuse within the Southern Baptist Convention and the SBC Executive Committee's response to allegations of abuse. Write It On Their Hearts was printed before that report was published, and we will remove these endorsements when we reprint. In the meantime, we wish to apologize for any concern or distress that is caused by the presence of these endorsements in this book.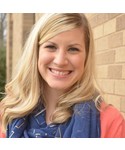 Courtney Reissig
Author, Teach Me to Feel: Worshiping Through the Psalms in Every Season of Life
Every parent wants to disciple his or her kids well. Most of us think we have more time, but what if we don't? What if today is what matters and tomorrow isn't promised? Reading Chris Swain's words on discipling our kids in the faith felt like a commentary on a life well-lived. It would be easy to romanticize his final words on discipleship and see them as unattainable, but Swain didn't write that way. He wrote as a parent in the trenches, providing accessible and encouraging tools for parents to use with their kids. I only wish we had more from him. His final work is a gift to parents, like me, who desperately want their kids to know that they love them and God loves them.
"Practical Helps for Discipleship"
(Review written for 'Write It On Their Hearts')
Here's a very practical parenting book that outlines 6 key aspects of discipling your children and they've created an acronym to help us with both our understanding and the application.

Love. We love our children with TIME [Transparency, Intimacy, Meaningfulness and Empathy]

Connection. We build this with CARE [Compassion, Authenticity, Relevance and Engagement]

Accountability. We SPUR them on [Sharpen, Pray, Urge, Restore].

Scripture. We get to know the Word and HEAR [Highlight, Explain, Apply, Respond]

Prayer. Both together and individually we ASK [Ask, Seek, Knock].

Rest. In all the craziness we STOP [Still, Talk, Offer, Peace]

When you stop to consider these categories, I think it's easy to just assume what love is, or what building connection is, and we may conclude we're already doing it without considering more deeply what it means. This is why the acronyms are helpful because they break down a big concept into smaller bites we can chew on in our parenting.

For each family, and each child, parenting can look different. But as we purposefully engage with the question, "How am I loving my child?" or, "How am I holding them accountable?" These chapters provide good food for thought and discussion with principles we can apply.

We're reminded that our purpose as parents is clearly defined in scripture: we are to make disciples. "The Great Commission begins in the home. This is the purpose each and every Christ-following parent must embrace."

The plan is simple. What's difficult is the investment.

Isn't that the truth!

For the parents who appreciate routine and action plans, they've put together a monthly or yearly printable plan to help guide you in your intentionality.
"A true Kingdom work"
(Review written for 'Write It On Their Hearts')
Write It on Their Hearts is sure to bless families today and in years to come. The book is co-authored by Chris and Melissa Swain. The seven chapters each focus on a specific aspect of discipleship, preceded by a helpful introduction which dissects contemporary culture. Throughout, the authors adapt practical strategies commonly associated with discipleship and apply them to parenthood. Statistics are presented to demonstrate the importance of family discipleship, highlighting the limited time that parents have with their children before they become adults. A key argument is that there is a culture of busyness which restricts critical family time. In counter, the Swains insist that Christian parents 'must decide that today is the day to say the stuff, do the things, and bury the nebulous "someday" because that day is today!'
This is a genuine Christ-centered work which espouses love and wisdom. The practical points and anecdotes are highly impactful and should bless parents from many walks of life. The writing style is clear, sustained, and free from jargon. To improve the work and expand its footprint, the authors could have included guidance for different family dynamics. For example, what about specific advice for single-parent families, or those with one parent on active service, or an occupation away from home, or a disability? Furthermore, as a nature enthusiast I dispute the authors' stance on 'outside activities', as I believe these certainly fall into the category of our most meaningful family moments! Despite this, conclusively the book is an excellent resource; written by disciples, for discipleship. A true Kingdom work.

I received a free copy of this book from The Good Book Company in exchange for an honest review.